05-21-2022
This week FTP is visiting the wonderful town of Nashville Tennessee, (we may not post anything else until after Memorial Day) if you have never been, Broadway street is unbelievably busy starting at about 10:00 am through 3:00 am.  If the party scene is your thing it's probably the place to visit, if that's not your scene it's still fun to see, and while here I recommend checking out Bridgestone arena, similar to the Excel Energy Center it's a top notch facility.
05-19-2022
Former Delano Tiger Goalie Cade Lommel is now in his 2nd season with Creighton as a pitcher.  His longest outing so far this season is 7.1 innings, he allowed 6 hits, 2 runs and had 9 strikeouts.  Keep up the good work Cade, it's fun to see former MN High School Hockey Players living their best life!
05-17-2022
Jake Ottinger from Lakeville MN, had an excellent (although short) postseason performance with the Dallas Stars.  Through 7 games (430 minutes of ice time) he posted a 1.81 GAA, .954 save % and 1 shutout.  The Stars lost in OT of game 7 to the Calgary Flames.  Big things ahead in the NHL for another MN High School Hockey player!

05-16-2022
Out of the Big South Conference Luverne hopes to build on the 15-11 season from last year.  They return their top scoring players from last season in Brock Behrend (11), Patrick Kroski (10) and Owen Sudenga (10).  Behrend had 29 Goals and 29 assists in 26 games, Kroski had 22 Goals and 33 assists and Sudenga had 14 Goals and 23 assists.  Fellow 10th Graders Henry Hartquist chipped in 7 Goals and 17 assists while Elliot Domagala had 11 Goals and 13 assists.  10th grade Goalie Tyler Arends played every game and posted a 3.16 GAA and a .903 save %.  Assuming they all return watch for Luverne to challenge for a state tournament entrance out of section 3 next season.
05-13-2022
Kittson County Central Player, Tyler Hennen, will enter his 5th year of Varsity hockey next season.  To date he has played in 88 games, has 92 goals, 103 assists for a total of 197 points, well done young man and best of luck during your senior year.

05-12-2022
Rochester Lourdes sophomore goalie Xander Carter-Kleven was a big part of his teams 18-6 overall record.  He posted a 1.91 GAA and .930 Save %.  He will be a big part of this team for the next 2 years should he decide to stick around.  Watch for the Lourdes to make a run to the state tournament of section 1A in the next few years.

05-11-2022
The Chaska Hawks return one of the most dynamic teams they have ever had.  After posting a 22-6 record and losing out to Prior Lake in the section title game they look to bounce back in a big way.  The leading scorer from last season was 10th grader Sam Scheetz, (22 Goals 18 Assists). Future Gopher Sam Rinzel, if he returns for his senior season will be a Mr. Hockey candidate, he is an electric player and looks to guide his team to its first ever state tournament appearance.
05-10-2022
The Mora Mustangs had a great season this past year.  They had an overall record of 18-6-2, (lost to St. Cloud Cathedral in Section play 4-3) Their leading scorer was Parker Mitchel with 55 goals and 32 assists.  His team-mate and fellow senior Jack Kritzeck had 25 goals and 35 assists.  The leading returning scorer will be defenseman Trenton Fore, he ended the year with 12 goals and 30 assists.  You don't typically see a Defenseman as one of the leading scorers so that will be something to keep an eye on next season.  His stats are below and will be updated next season as they accumulate.

05-09-2022
The Hermantown Hawks were your highest goal scoring team last season, they had 61 First Period Goals, 68 Second period goals, 49 Third period goals and 2 Overtime goals for a grand total of 180 goals scored.
05-06-2022
Our way to early Class AA 2022-2023 rankings will be emailed out today, Click Here to sign up for the email to receive these, then hit reply to let us know how wrong we are.
05-05-2022
The Orono Spartans have hired a new coach.  Sean Fish was previously the girls head coach and guided them to a 3rd place state finish.  He has also spent time at St. Michael, Anoka and the NAHL. Best of luck coach, FTP is very high on the Spartans for next season.
05-04-2022
Check out our preseason list of MR. Hockey candidates for 2023 here.  Who else should be included, email us ftp@followthepuck.com
05-03-2022
Mike Randolph has been named the head coach at St. Thomas Academy for next season.  Mike brings an impressive resume to that position and should have the Cadets competing for a state appearance in no time.  It will be fun to see what transpires with this pairing.
04-30-2022
The MN Wild have clinched home ice in round one of the Stanly Cup Playoffs.  They will play the St. Louis Blues who have dominated the Wild this season.  Hopefully the boys can turn that around when it matters
04-29-2022
The FTP 2022-2023 Class A Pre-season rankings come out today, click here to sign up for the Email, then hit reply and let us know how wrong we are.
04-26-2022
Hagen Burrows, (Minnetonka) leads all the skaters at the HP-17 Festival (2005 Birth years) after the first weekend, Through 3 games he has 6 total points.  Stats below are his career so far.

04-25-2022
Tory Lund, (Sartell) and Bryce Laager (Blaine) lead the Ted Brill/Great 8 Festival after the first weekend (4 games played) in total points with 7 each.
04-22-2022
The Sartell Sabres will be an interesting team to keep an eye on next season, they return the top scorers from a season ago in Tory Lund (54 points) and Parker Comstock, (38 points)  Unfortunately for they are in the always tough section 8 for playoffs and Moorhead will be a top notch team next season.
04-21-2022
The Ted Brill Great 8 tournament begins this weekend at the Doug Wooge Arena.  This tournament is for seniors to get another shot to play in front of scouts and other people in the hockey world, and also for underclassmen to get a jump start on next season.  Full rosters and schedules can be seen here. Good luck to all those who were chosen to play.
04-20-2022
Lakeville South goalie Jack Hochsprung had an excellent junior season.  Through 30 games he was 21-5 with 7 shutouts, posted a 1.56 GAA and .923 Save %, he will be a key player in the Cougars quest for another state tournament run.
04-19-2022
Garrett Raboin, from Detroit Lakes MN, also played for the Lincoln Stars of the USHL and the St. Cloud State Huskies, has been named the head coach at Hamline University.  He spent the past 3 seasons as an assistant with Bob Motzko and the MN Gophers.  Best of luck Garrett!
04-18-2022
As referenced below Ben Meyers signed with the Colorado Avalanche and it didn't take him long to make an impact, here is his first NHL Goal, congrats to a kid from small town MN.

04-15-2022
St. Thomas Academy and head Coach Trent Eigner parted ways a few weeks ago, Eigner was surprised his contract was not renewed.  We are hearing that several well known coaches applied for that job, some with state championship experience, it will be interesting to see who they decide to hire.
04-14-2022
Ben Meyers, former Delano Tiger and University of Minnesota Star, recently signed with the Colorado Avalanche as a college free agent.

04-13-2022
Moorhead sophomore goalie Kai Weigel is going to attempt to lead his team to a state title next season.  Last year through 27 games he played 1380:12 minutes, had a record of 20-5-1, a GAA of 2.33 and save % of .899 with 4 shutouts.
04-12-2022
Sophomore sensation Louie Wehmann, out of Providence Academy, leads the way for his squad as they look to come out of the heavily contested Section 2 next season.  Through 27 games he had 34 goals and 27 assists.
04-11-2022
Hermantown stud sophomore Max Plante, has opted to sign with the USA U-17 team and will most likely be done with his high school career after 1 season and a state championship.  He is a strong skater with excellent hockey IQ, big things ahead for Max.
04-08-2022
Ryan Sandelin, (Hermantown/Minnesota State Mankato) and his Mavericks will play for the NCAA national championship game tomorrow night vs. Denver.  The Mav's have won 18 games in a row and are looking for their first ever National Title.  Ryan has 21 Goals and 12 assists thru 40 games this season.


04-07-2022
Rogers junior goalie Cade Chapman will be asked to lead his team to the state tournament next year, he is coming off a great season in which he went 19-8-1, 1428 minutes logged and posted a 2.57 GAA and save percentage of .904.
04-06-2022
Little Falls Junior Matt Filippi had a breakout year last season, he played in 27 games, had 35 Goals and 40 Assists for 75 total points, view the entire list of high scoring returning players here.
04-05-2022
Jayson Shaugabay, (Warroad) leads the players eligible to return for the senior season with 81 points last season, he is committed to play at the University of Minnesota Duluth.
04-04-2022
The Northfield Raiders lose only 4 seniors to graduation, Spencer Klotz and his 91 points will be hard to replace, however they have a talented group of underclassmen including the 2nd leading scorer on the team, 10th grader Kamden Kaiser who had 52 points last year.
04-03-2022
Robbie Clarkowski (Goalie) of the Edina Hornets is a big reason they are ranked in our top 10 Class AA preseason rankings.  He had a excellent season, 21-9 record and had a 1.86 GAA along with a .923 Save %.
04-02-2022
Sophomore Noah Urness from Roseau is on our players to watch list. This past season he was second on his team in scoring, Thru 27 games he had 24 Goals and 35 Assists for 59 total points.  As a freshman he played in 21 games, had 6 Goals and 12 Assists.   He is tied for 4th place among skaters his grade that are eligible to return next season,  Click here for the top 30 list.

04-01-2022
Max Plante, Hermantown, is our top rated sophomore skater (he will not be returning), he is the returning leading scorer for the 2023-2024 graduates.  Last season thru 31 games he had 18 goals, 53 assists for 71 total points.  To view the top 30 in that grade click here.

04-01-2022
Wyatt Farrell out of La Crescent Hokah (10th grade)  had a standout season.  Thru 26 games he put up 49 Goals, 13 Assists for a total of 62 points.  His Junior season should be a fun one to watch.
03-31-2022
Kamryn Van Batavia out of Luverne MN, (committed to Minnesota State Mankato) had ridiculous stats this past season.  In 28 games she put up 83 goals and 44 assists for a total of 127 points.  The best part is she's just a Junior so we will get to see her try and top that next season!

03-31-2022
Since the 2009-2010 season, Warroad has lost to East Grand Forks 9 times in the playoffs.
03-30-2022
Did you know the leading freshman scorer this past season in (boys) MN High School hockey was Malachi McKinnon out of Forest Lake.  He had 52 points in 27 games.
03-30-2022
Academy of Holy Angels freshman star Henry Lechner was 3rd on his team in scoring with 39 points in 23 games played.  He also played in the first ever FTP/MNHShockeytalk Top Prospects game.  This kid has a bright future.
03-29-2022
Oliver Moore, (former Totino-Grace standout) and Gopher commit has 41 points thru 49 games for the U-17 National team.
03-29-2022
Ryan Chesley, Mahtomedia MN, Shattuck St. Marys, US U-18 team and future Gopher is currently ranked #26 by Smaht Scouting who provides services to the NHL.
03-29-2022
Blake Biondi, Hermantown /UMD  & Gino Guyer, Greenway  are the only Class A players to win the MR Hockey award in the past 20 years? Biondi won it in 2020 and Guyer in 2002.
03-29-2022
Did you know Jimmy Snuggerud (Chaska) is currently 5th in total points for the NTDP with 54?
He is rated "Group B" skater by NHL Central Scouting on the 2021-22 Players to Watch rankings…Committed to University of Minnesota…Son to Dave and Ann, brother to Ellie, Enna, and Jake…Favorite NHL player is Mitch Marner…Favorite book is Legacy.
SOCIAL: 
Instagram: @jimmy.snuggerud
Twitter: @Jsnuggerud
03-29-20222
MOORHEAD SPUDS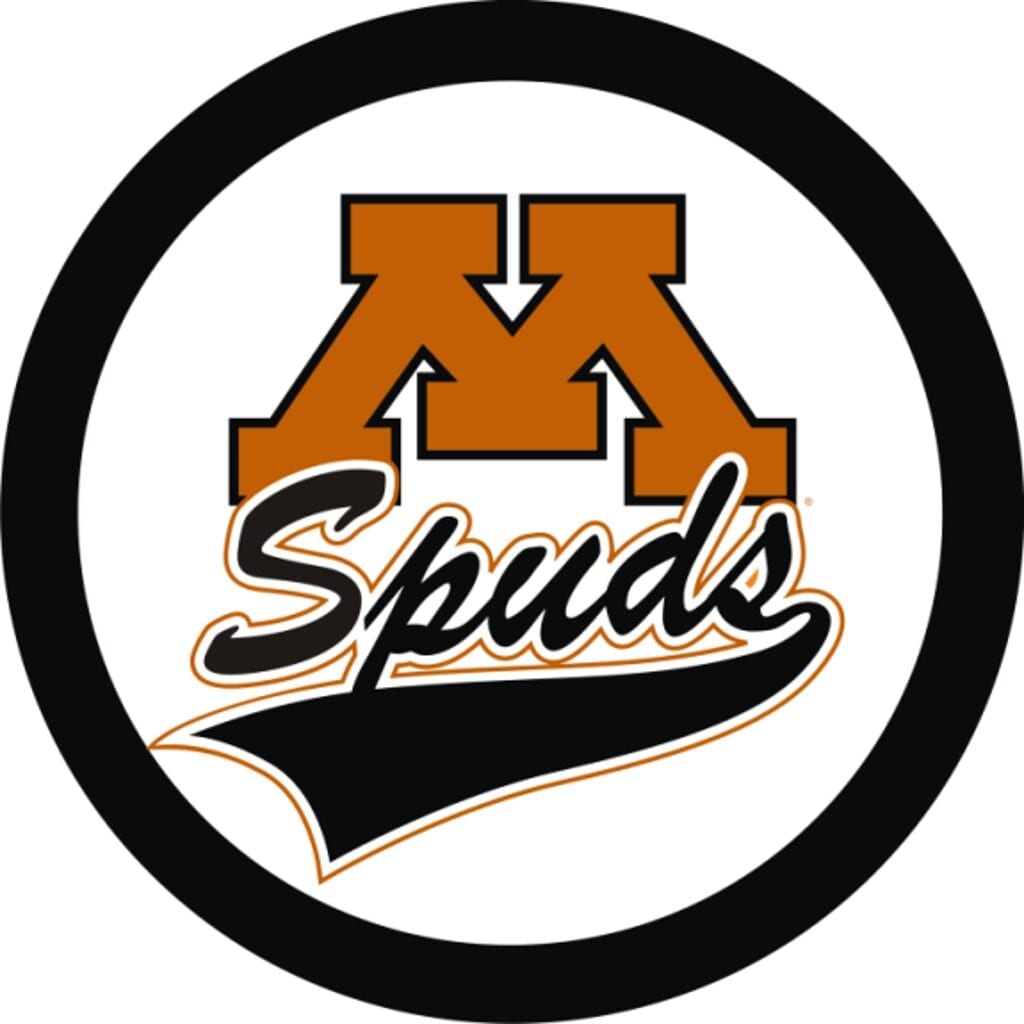 Did you know the Moorhead Spuds have made it to 22 straight section title games, but have not won the state tournament yet?  That may change in the next few years however.