Hill-Murray Takes a 3-1 Victory in a Tight Game Against Wayzata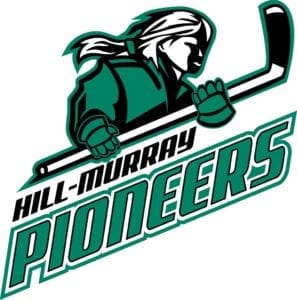 Two-point games from Hill-Murray forwards #26 Alex Begley and #22 Hunter Laschinger carried the Pioneers over their Saturday afternoon opponents, the Wayzata Trojans. The win gives Hill-Murray four in a row, as they continue their hard climb up the Metro East standings, where they currently sit in fourth place.
 1st PERIOD
Despite vibrant opening period, in which both teams traded blows, Hill-Murray goaltender #1 Nick Erickson turned away all 12 shots he faced, while Wayzata's #1 Will Ingemann stopped all 10 that made it his way.
2nd PERIOD
After a relatively civil first period, Wayzata forward #14 earned the first penalty of the game with a hooking minor at 5:20. The Pioneers killed off the penalty, but #9 Nick Mountain soon put Hill-Murray on the board with an even-strength goal at 7:23, with assists from Laschinger and Begely.
Hill-Murray would strike again three minutes and thirty-seven seconds later, when #17 Dylan Godbout put another past Ingemann. #12 Jared Jensen and Begely assisted on the goal.
Despite an offensive attack that put four shots on Erickson and a tripping minor to Begely (13:25), Hill-Murray closed the 2nd with their two-goal lead intact.
3rd Period
Heated tempers overtook both teams 24 seconds into the 3rd, resulting in matching unsportsmanlike conduct minors for #9 Nick Mountain of the Pioneers and #3 Dylan Lewis of the Trojans. The four-on-four play suited Wayzata, who unleashed a flurry of shots that ended when their forward #12 Jake Schneider took a slashing penalty.
Despite bombs from captain # 14 Matthew Fleischhacker and his fellow defenseman #2 Joe Palodichuck, Hill-Murray could not convert on the power play. A slashing minor to #2 Hayden Davison at 7:20 gave Hill-Murray another change, but the extra man was no advantage at all, as senior # 9 Kohl Sauer scored a short-handed goal 30 seconds later (assist by #10 Drew Goetz).
The goal kept the Trojans in the game, and the team traded shots throughout the closing minutes. But an empty-net goal from Laschinger at 15:50 sealed the victory for the Pioneers.
With a record now at 9-1-0, Hill Murray will look to extend their win streak to five when they visit Simley on Tuesday 2/23.
The loss put Wayzata's record at 7-4-0, making their upcoming game against Lake Conference rivals Minnetonka on 2/25 all the more important.