10-03-2022
Looking for your weekend hockey recap?  Click here to sign up for the FTP Newsletter that will go out this afternoon!
09-30-2022
They say players seasons are built during the offseason, if thats the case (and it may be) Cretin Derham Hall skaters Jake Fisher, Attila Lippai and Colton Jamieson have put on a school for offseason work.  We all knew they are skilled players but to have 3 in the top ten in overall points in one of the best high school leagues in the country is really something to look at.  Through the first month Jake Fisher leads all players in overall points, goals and assists.  He has 28 total points, 13 goals and 15 assists.  The assists show that he is not selfish with the puck and wants to get his team involved in any way he can.  Attila Lippai has 18 points and Colton Jamieson has 15.  If Elite League success = high school success you can lock Cretin Derham Hall in for another trip to the MN State Hockey Tournament in 2023.
09-29-2022
Something to keep an eye on in 2023-2024 up in the duluth MN area???
09-28-2022
I found this article from February of 2022 while using the Elite Prospects website on Sam Rinzel and why he will be drafted in the first round of the NHL Draft.  ( He was chosen #25 overall by the Chicago Blackhawks)
Sam Rinzel is a top-rated prospect in the draft for a reason
Daniel GeeContributor – Crossover Scout
Sam Rinzel is a name you will want to remember come the 2022 NHL Entry draft.
At 6-foot-4, he possesses the size and right-shot handedness that every NHL team strives to add when designing an optimal roster composition.
On a surface level, the offensive defender has crushed oppositions with his production this season, scoring near or over a point-per-game in every league Rinzel has taken part in this year, all while having a June birthday.
Every season the United States High School and Prep School hockey circuits seemingly churn out impact prospects for the NHL Entry Draft. In recent years, defenders Scott Morrow (Carolina Hurricanes), Wyatt Kaiser (Chicago Blackhawks) and Jack Peart (Minnesota Wild) have all asserted themselves as valuable parts of their respective prospect pools.
This year is no different with Rinzel, who is slowly coming to the forefront of rankings lists in the public sphere.
But surface level is surface level, and Rinzel is actually more exciting when you dig into his game footage and analytical profile. He could very well eclipse those players who have come before him in recent drafts.
A projectable, top-arm flared release, combined with synced weight-transfer and an immense amount of downforce, Rinzel has all the mechanics to be a shooting force on the blue line. Combine that with angle-changing inward drags, high placements, and a penchant to eat up available space, all while pushing free range activations, the dominance that permeated across his game created significant intrigue across the Elite Prospects scouting team
09-27-2022
Some college hockey preseason polls have the Gophers at #1, but most that we have seen all include Gophers, Mavericks and Bulldogs all in the top 6. Should be a fun season in the college hockey world this year!
2022-23 CHN Preseason Top 10
The More Things Change …
CHN Staff Report
That being said, roster turnovers were not so severe for most of our preseason top-10. And these teams should all look familiar since every one of them was in the NCAA Tournament last year. Six of these teams allowed 2.2 goals per game or less. Some of them are even returning elite goaltenders.
Hopefully, this year, whatever happens, the playoffs will have a lot less controversy and fewer missed calls. Some rule changes have addressed those issues, which we chronciled in the offseason and will recap in our upcoming New Season Primer article.
1. Minnesota
The Gophers return as our No. 1 preseason team because Bob Motzko has completed rebuilding the program in his image. Last season, for the first time since 2014, they returned to the Frozen Four. Under Motzko, Minnesota has finally found the missing catalyst that has turned a good offense, defense, and elite talent into a national championship contender. Some of it was from Jack LaFontaine's resurgence in net. But even after LaFontaine turned pro in the middle of the season, Justen Close held down the fort. (A lot of Minnesota's success came via volunteer goaltending coach Brennan Poderzay, who previously worked with Hobey Baker winner Dryden McKay.) As usual, Minnesota is welcoming a large freshman class, but this year it is losing fewer key players,  despite losing the Lucius brothers, one to transfer and one to a change commitment, and the transfer of another freshman, Tristan Broz, to Denver. Brock Faber returns on defense, which might be the key to the whole thing. And stud freshman Logan Cooley arrives.
2. Denver
The reigning national champions had the best offense in the country last season, but they lost three of their top scorers in the offseason, including Hobey Hat Trick finalist Bobby Brink. Brink led the nation with 57 points. Carter Savoie turned pro while Cole Guttman and Brett Stapely graduated. Still, there is plenty left, anchored by Mike Benning and Sean Behrens on defense. Carter Mazur will look to build on a solid freshman year. What helped Denver last year — and what will help this year as well — was the low roster turnover and the previous Frozen Four experience. Magnus Chrona will return to Denver's net after posting a .911 save percentage. Amongst the newcomers is Rieger Lorenz, last year's CJHL Rookie of the Year, along with a bumper crop of other freshmen, and the aforementioned transfer of Broz.
3. Northeastern
The Huskies are expected to be the best team in Hockey East this year, a conference that while in a relatively down period, is still formidable. Northeastern is returning a core of its players, save a few transfers and the graduation of Jordan Harris. The Huskies had one of the best defenses in the country last year, allowing just 1.4 goals per game. A big piece of that was because of goaltender Devon Levi, the Mike Richter Award winner who recorded a .952 save percentage. The Huskies will have to find some more offense if they're going to keep up with the other teams on this list, but that offense came a long way last season, sparked by Aidan McDonough's breakout season. And having Levi in the net is a big advantage.
4. Minnesota State
The Mavericks have now been to two Frozen Fours in a row. Last year the Mavericks were one of the best teams in the country, if not the best, and simply ran into a situation that rattled them. After allowing a goal in the national championship game, the defense splintered slightly and the Mavericks were unable to recover. Last year, Minnesota State allowed 1.4 goals per game. While Hobey Baker winner Dryden McKay, who recorded a .931 save percentage over 43 games, graduated, a large part of his success came from the defense. Minnesota State's defense, led by Jake Livingston, rarely allows quality shots on goal. The Mavericks complemented the defense with a powerful offense, but Nathan Smith left early and Julian Napravnik graduated. Those two accounted for almost 100 points. The Mavericks will need offense to replicate a Frozen Four run, but the defense will still be solid this season.
5. North Dakota
The Fighting Hawks look poised to replicate their strong showing from last year. They didn't make it far into the NCAA Tournament, but they were placed in a very difficult regional. The most notable departure was Jake Sanderson, who turned pro in the offseason. North Dakota has a small incoming freshman class of four players and are returning a core of their roster, spearheaded by Riese Gaber up front and Tyler Kleven in the back. Zach Driscoll, who saw most of the action in net, graduated. They have some fifth year/graduate transfers, including goaltender Drew DeRidder from Michigan State. The NCHC will be a tough conference this year, but the Fighting Hawks should finish around the top.
6. Minnesota-Duluth
As we wrote last year, as long as Scott Sandelin is coaching the Bulldogs, they will always be a threat. Last season was supposed to be a "weak" year for the Bulldogs, especially with Minnesota-Duluth no longer having names like Scott Perunovich and Riley Tufte. But they still advanced to the regional championship game, where they lost a close battle with the eventual natural champion Pioneers. UMD's offense was considerably less productive than in years past, but the Bulldogs still allowed a small amount at 2.2 goals per game. The biggest loss for the Bulldogs is Ryan Fanti; the goaltender saw action in 37 games and posted a .929 save percentage. Maine transfer Matthew Thiessen may take his place.
7. Quinnipiac
After a strong regular season, the Bobcats struggled in the postseason. Plagued by a slow start, they eventually fell to Michigan in the NCAA Tournament — although they came close to a miracle comeback. Over the season, the Bobcats allowed 1.3 goals per game — best in the nation. And behind every stellar defense is a great goaltender. For Quinnipiac, it was Yaniv Perets, who led the country with a .939 save percentage. Perets will be back, as will some other players who elected to stay for a graduate season.
8. Harvard
Harvard struggled last year but bounced back to earn an automatic bid by winning the ECAC championship. The Crimson suffered a big offseason loss with the departure of Nick Abruzzese, but they were lucky his departure did not set off a string of others. Matthew Coronato, the freshman who led the team in scoring, will return. So will starting goaltender Mitchell Gibson. The Crimson always have a way of bringing in top talent.
9. Notre Dame
Notre Dame exceeded expectations last year and entered the NCAA as a fairly strong team; they just ran into a team that was better. The big issue for the Fighting Irish is that, since Cale Morris' stellar season four years ago, they've been unable to find goaltending that can win a national championship. Offense has also been harder for the Fighting Irish to come by. Goaltender Matthew Galajda is gone, but senior Ryan Bischel saw some playing time last year. The Fighting Irish also lost leadership from graduating seniors like Graham Slaggert.
10. Michigan
Like the movie War Games, where the young soldier stationed at the air base in Alaska, following the release of phantom "missiles," proclaims — "We're still here!" — Michigan is still a force to be reckoned with, despite a tumultuous offseason, a new head coach, and the departure of numerous high-end players. Michigan made the national semis last season, before losing to Denver in overtime. Then came the release of an independent investigation into Mel Pearson's behavior as a coach. Despite Pearson's dismissal, questions still abound over the team culture as Warde Manual is still Michigan's athletic director, even though he supported Pearson. But, the Wolverines will still be competitive, mostly because of the stellar recruiting classes Michigan welcomes yearly. They lost more than any other team in terms of player departures: Thomas Bordeleau, Johnny Beecher, Matty Beniers, Kent Johnson and Owen Power. But someone who did stay is reigning CHN Rookie of the Year Luke Hughes. Top 15 NHL Draft pick Frank Nazar joins the forward group, and the best of the bunch is probably Adam Fantili, expected to be a top 3 (at least) NHL pick next year.
09-26-2022
After the weekend here are your Elite League point leaders:
Jake Fisher 24 – Cretin Derham Hall
Teddy Townsend 20 – Eden Prairie
Blake Steenerson 17 – Maple Grove
Attila Lippai 14- Cretin Derham Hall
Carter Krenke 14- Blake/Omaha of the USHL
Colton Jamieson 14- Cretin Derham Hall
Hunter Anderson 13-Shattuck
Javon Moore 12- Minnetonka/NAPHL
John Hirschfeld 12 St. Cloud Cathedral
Jordon Ronn 12 -Champlin Park
Cretin Derham Hall has 3 players in the top 10 for scoring.  That is a strong statement to make playing with this kind of competition, we will have to keep an eye on the Raiders as the season gets closer.
09-22-2022
In case you may have missed it, we released a podcast yesterday we did with Todd from MNHSHockeytalk.  Todd is a local scout who wants 100+ high school games a year.  We discuss how he started his service, the Top Prospects game, the Chanhassen vs. Chaska rivalry and who he likes to win that section next year.  Go ahead and listed to it right here
09-21-2022
Last nights Elite league games went as follows:
TDS Transportation 4-1 over MAP South.  Scoring for TDS was Cayden Monson, Javon Moore 2 goals, and Teddy Townsend.  The lone goal for MAP South was scored by Ben Miller.
In game 2 it was TCO 6-5 over MPSL Magazine.  Scoring for TCO was Brittan Alstead, Blake Steenerson 2 goals, David Wolsfeld, Drew Stewart and Drew Belleson.
MPLS Magazine goals scored by Johnny Conlin, Ty Tuccitto, Landon Steffen, Nolan Roed and Luke Steffen.
There is 1 game on the schedule tonight and that will take place at the Shattuck-St. Mary's Ice Arena at 7:00 between SIT Mutual Funds and Shattuck St. Marys. 
09-20-2022
Tonight in the Elite High School League its Teddy Townsend, Alex Lunksi, Hagen Burrows, Ashton Schultz and Harper Searles for Team TDS, taking on Leading Scorer Jake Fisher, Tommy Cronin  and Aidan Willis for MAP South Hockey.  Should be a great game with some really high end MN High school hockey talent on display.
09-16-2022
Heading into the 2nd weekend of the Elite League, White Bear Lake forward Nolan Roed leads the league with 2 game winning goals in 4 games.  He is prepared to have a huge season for the Bears.
09-15-2022
Most of us MN High School Hockey fans understand it's one of the best high school sporting models out there, want proof?  Here's an excellent article by Loren Nelson:
Keith Hendrickson has been involved in most every aspect of Minnesota youth and high school hockey during his career as a player, coach and NHL scout.
Maybe Hendrickson hasn't seen it all — yet. But the former longtime Virginia High School head coach and current amateur scout for the Vegas Golden Knights certainly understands the "Minnesota Model," the focus of a recent College Hockey Inc. research project, as well as anyone.
"Minnesota high school hockey is a wonderful thing," Hendrickson said. "Playing with childhood friends in the community they have grown up in can be very gratifying."
The study by College Hockey Inc. focused on the the paths of 194 Minnesota men who earned NCAA Division I hockey commitments from May 14, 2018 through Nov. 15, 2021. Among its findings:
High school hockey is the dominant route for Minnesotans to Division I college hockey.
A significant majority of Division I-committed Minnesotans played high school hockey through their senior year.
Minnesota is the only state where high school hockey players earned more commitments than players in any other league.
All of which reinforces what Hendrickson has observed for decades. The stay-at-home, play-for-your-high-school Minnesota Model —  no state or province sends more players to NCAA Division I men's hockey each year — works. Of the 194 commitments made by players from Minnesota studied by College Hockey Inc., 171 of them played high school hockey and 140 played high school hockey as seniors.
"There is no shortcut to greatness, no matter what some may try to tell kids and parents," Hendrickson said.
For 21 years the Upper Midwest High School Elite League Hockey has provided players with development and high-level exposure in the months leading up to the high school season. Last weekend Hendrickson was among the representatives from 27 NHL teams evaluating the league's players.
The Golden Knights selected Jackson Hallum, a Michigan commit who played in the Elite League for MAP South and high school hockey at St. Thomas Academy through his senior year, with their third-round selection in the 2020 NHL Draft. Hallum went on to play in the 2021 state Class 2A tournament.
"Winning a championship and playing in the state tournament is a special experience that stays with those who have done it for life," Hendrickson said. "More needs to be said about the quality of the athlete's journey, because that too has an effect on the athlete's development and overall experiences."
09-13-2022
As everyone knows hockey needs refs and they are in short supply.  The MN Wild is hosting a youth hockey referee clinic, info in the link below.
https://www.nhl.com/wild/community/referee-seminar
09-12-2022
The Upper Midwest Elite League had its opening weekend and it was a smashing success.  27 of the 32 NHL teams had scouts in attendance, not bad for high school athletes!  Here are your offensive leaders after one weekend of play.

| # | Player | Team Wisconsin | Position | Assists | Goals | Total Points |
| --- | --- | --- | --- | --- | --- | --- |
| 21 | Jake Fisher | MAp South Hockey | F | 6 | 3 | 9 |
| 14 | Tommy Cronin | Map South Hockey | F | 3 | 2 | 6 |
| 13 | Jack Mcgregor | Team Wisconsin | F | 3 | 2 | 5 |
| 11 | Jordan Ronn | Twin Cities Orthopedics | F | 3 | 3 | 3 |
| 7 | Adam Timm | Team Wisconsin | F | 3 | 3 | 2 |
| 19 | Aidan Willis | Map South Hockey | F | 3 | 1 | 4 |
| 19 | Brady Engelkes | Team Wisconsin | F | 3 | 2 | 3 |
| 10 | John Hirschfeld | Sanford Power | F | 3 | 3 | 2 |
| 15 | Kyle Rohrer | Team Wisconsin | F | 3 | 3 | 2 |
| 22 | Teddy Townsend | TDS Transportation | F | 3 | 3 | 2 |
| 7 | Alex Lunski | TDS Transportation | F | 3 | 0 | 4 |
| 8 | Andrew Larson | Kowalski's | F | 3 | 2 | 2 |
| 15 | Blake Steenerson | Twin Cities Orthopedics | F | 3 | 2 | 2 |
| 3 | Carsen Gause | Team Wisconsin | F | 3 | 2 | 2 |
| 16 | Carter Krenke | SIT Mutual Funds | F | 3 | 1 | 3 |
| 18 | Chuck Owens | Map South Hockey | F | 3 | 1 | 3 |
| 20 | Colton Jamieson | Map South Hockey | D | 3 | 0 | 4 |
| 9 | Hagen Burrows | TDS Transportation | F | 3 | 1 | 3 |
| 15 | Ian Ness | Sanford Power | F | 3 | 0 | 4 |
| 12 | Noah Urness | Sanford Power | F | 3 | 0 | 4 |
| 5 | Reece Cordray | Team Wisconsin | F | 3 | 3 | 1 |
| 8 | Ryan Lund | Sanford Power | D | 3 | 2 | 2 |
| 17 | Ryan Roethke | TDS Transportation | F | 3 | 0 | 4 |
| 4 | Tyler Geyer | SIT Mutual Funds | D | 3 | 3 | 1 |
| 18 | Tyler Hennen | Sanford Power | F | 3 | 2 | 2 |
| 9 | Aaron Reierson | Sanford Power | F | 3 | 2 | 1 |
| 8 | Aiden Welch | SIT Mutual Funds | F | 3 | 0 | 3 |
| 17 | Andrew Earl | SIT Mutual Funds | F | 3 | 1 | 2 |
| 19 | Ashton Schultz | TDS Transportation | F | 3 | 1 | 2 |
| 11 | Attila Lippai | TDS Transportation | F | 3 | 0 | 3 |
| 22 | Bradley Walker | MPLS ST. PAUL Magazine | F | 3 | 3 | 0 |
| 16 | Brock Behrend | Sanford Power | F | 3 | 1 | 2 |
| 21 | Cayden Monson | TDS Transportation | F | 3 | 2 | 1 |
| 4 | David Wolsfeld | Twin Cities Orthopedics | F | 3 | 2 | 1 |
| 14 | Drake Ramirez | MPLS ST. PAUL Magazine | F | 3 | 1 | 2 |
| 9 | Drew Belleson | Twin Cities Orthopedics | D | 3 | 2 | 1 |
| 8 | Evan Williams | Twin Cities Orthopedics | F | 3 | 1 | 2 |
| 12 | Gavin Uhlenkamp | SIT Mutual Funds | F | 3 | 1 | 2 |
| 16 | Harper Searles | TDS Transportation | F | 3 | 2 | 1 |
| 19 | Jack Christ | SIT Mutual Funds | F | 3 | 0 | 3 |
| 20 | Jackson Nevers | SIT Mutual Funds | F | 3 | 3 | 0 |
| 4 | Javon Moore | TDS Transportation | F | 3 | 2 | 1 |
| 13 | Luke Margenau | Twin Cities Orthopedics | D | 3 | 0 | 3 |
| 19 | Luke Miller | Twin Cities Orthopedics | F | 3 | 2 | 1 |
| 11 | Michael Risteau | SIT Mutual Funds | F | 3 | 1 | 2 |
| 14 | Murray Marvin-Cordes | Sanford Power | F | 3 | 2 | 1 |
| 20 | Nolan Roed | MPLS ST. PAUL Magazine | F | 3 | 2 | 1 |
| 23 | Parker Osborn | SIT Mutual Funds | F | 3 | 3 | 0 |
| 15 | Peyton Blair | MPLS ST. PAUL Magazine | F | 3 | 0 | 3 |
| 12 | Rowan Heithoff | Twin Cities Orthopedics | F | 3 | 0 | 3 |
| 8 | Ryan Flaherty | Map South Hockey | F | 3 | 2 | 1 |
| 7 | Tanner Rausch | Twin Cities Orthopedics | F | 3 | 2 | 1 |
| 18 | Tate Bloch | Twin Cities Orthopedics | D | 3 | 0 | 3 |
| 8 | Wes Berg | TDS Transportation | F | 3 | 3 | 0 |
| 11 | Zachary Howard | Team Wisconsin | F | 3 | 0 | 3 |
| 16 | Ben Miller | Map South Hockey | F | 3 | 1 | 1 |
| 13 | Brady Ingebritson | Map South Hockey | F | 3 | 1 | 1 |
| 19 | Brock Schultz | Sanford Power | F | 2 | 0 | 2 |
| 25 | Caden Lee | Map South Hockey | F | 3 | 1 | 1 |
| 5 | Carson Clark | Twin Cities Orthopedics | D | 3 | 0 | 2 |
| 6 | Carson Strapon | Team Wisconsin | F | 3 | 0 | 2 |
| 6 | Eddie Revenig | SIT Mutual Funds | D | 3 | 0 | 2 |
| 11 | Hayden Davis | Kowalski's | F | 3 | 0 | 2 |
| 14 | Jack Bowe | Team Wisconsin | F | 3 | 0 | 2 |
| 16 | Jackson Lord | Team Wisconsin | D | 3 | 1 | 1 |
| 24 | Jackson Smithknecht | SIT Mutual Funds | D | 3 | 0 | 2 |
| 6 | Jackson Vogel | TDS Transportation | F | 3 | 1 | 1 |
| 12 | Jake Toll | Map South Hockey | D | 3 | 1 | 1 |
| 22 | John Halverson | SIT Mutual Funds | F | 3 | 1 | 1 |
| 14 | Johnny Hendrickson | Twin Cities Orthopedics | F | 3 | 0 | 2 |
| 3 | John Stout | TDS Transportation | D | 3 | 0 | 2 |
| 22 | Landon Jamieson | Sanford Power | F | 2 | 0 | 2 |
| 17 | Louis Wehmann | MPLS ST. PAUL Magazine | F | 3 | 0 | 2 |
| 2 | Luka Rohloff | Kowalski's | D | 3 | 2 | 0 |
| 17 | Matt Filippi | Sanford Power | F | 2 | 1 | 1 |
| 22 | Max Krebsbach | Twin Cities Orthopedics | F | 3 | 2 | 0 |
| 6 | Rhys Wallin | Twin Cities Orthopedics | F | 3 | 0 | 2 |
| 15 | Tyler Jordan | SIT Mutual Funds | F | 3 | 0 | 2 |
| 20 | Andrew Cumming | Sanford Power | F | 2 | 0 | 1 |
| 9 | Ashton Dahms | Map South Hockey | F | 3 | 1 | 0 |
| 21 | Ben Doll | Kowalski's | F | 3 | 1 | 0 |
| 20 | Brittan Alstead | Twin Cities Orthopedics | F | 3 | 1 | 0 |
| 10 | Caden Morgan | MPLS ST. PAUL Magazine | D | 3 | 0 | 1 |
| 23 | Carter Oothoudt | Sanford Power | F | 2 | 1 | 0 |
| 13 | Charlie Sandven | SIT Mutual Funds | D | 3 | 0 | 1 |
| 24 | Dallas Vieau | Kowalski's | F | 3 | 0 | 1 |
| 8 | David Dina | Team Wisconsin | D | 3 | 0 | 1 |
| 2 | Erick Comstock | Sanford Power | D | 3 | 1 | 0 |
| 10 | Gavin Garry | TDS Transportation | F | 3 | 0 | 1 |
| 3 | George Peterson | Kowalski's | D | 3 | 0 | 1 |
| 12 | Grant Winkler | Kowalski's | D | 3 | 0 | 1 |
| 22 | Gus Drennen | Kowalski's | F | 3 | 1 | 0 |
| 11 | Jace Erickson | Sanford Power | D | 2 | 0 | 1 |
| 2 | Jackson Ernst | Map South Hockey | F | 3 | 1 | 0 |
| 23 | Jackson Rudh | MPLS ST. PAUL Magazine | F | 3 | 0 | 1 |
| 2 | Jayden Veney | TDS Transportation | D | 3 | 0 | 1 |
| 18 | Johnny Conlin | MPLS ST. PAUL Magazine | F | 3 | 0 | 1 |
| 13 | Landon Steffen | MPLS ST. PAUL Magazine | F | 3 | 1 | 0 |
| 11 | Landon Stringfellow | MPLS ST. PAUL Magazine | D | 3 | 0 | 1 |
| 2 | Lucas Cernohous | SIT Mutual Funds | D | 3 | 0 | 1 |
09-07-2022
Elk River goalie Sam Stockman has committed to play baseball for the University of Utah, congrats Sam and best of luck!
08-30-2022
The MN High school hockey tournament is like no other, here are some highlights provided by CCX Media and Prep 45 of the championship game.
08-29-2022
We are roughly 90 days out from the start of the MN High school hockey season, with that thought in mind FTP is starting to do a deep dive on the class A (small school) side of things.  At first glance we have a few teams that may surprise people such as, Luverne, St. Cloud Cathedral, Orono and Northfield.  These are all teams that are primed (if all players return) to make a serious run at the section championship next season.
08-25-2022
What a season it was for the Rogers Royals.  They went 19-8-1 before eventually losing to Maple Grove in the section championship game.  They will be a force once again this coming season as they return key players such as leading scorer Sam Ranallo, (62 points), Chase Cheslock, (39 points) and starting goalie Cade Chapman, along with welcoming a very good group of bantams to the mix, it could be a fun year for Rogers Hockey!
08-24-2022
The East Grand Forks Green Wave could be a section 8A contender next season in the MN High school hockey league.  They could return some impressive hockey players in Jaksen Panzer, (ND commit) Brock Schultz, (34 points) Grady Magner (28 points as a D) Caleb Schmiedeberg (18 points) and bring back the two main goalies in Lucas Wavra and Chase Mero.
08-18-2022
Former Edina Hornet and MN Gopher player Sammy Walker has signed a 2 year, entry level contract with the Minnesota Wild today, best of luck Sammy, we will be cheering for you!

08-17-2022
Congratulations to Gavin Uhlenkamp (Chanhassen MN) on his commitment to play hockey at the University of Wisconsin!
08-15-2022
Today is the first official day of fall high school sports here in MN, good luck to all the athletes participating in a sport, we will see you on the rink in 3 short months!
08-12-2022
The MN Gophers mens hockey team has quite the list of incoming talent for 2022!  You can expect to see the following MN kids in the Maroon and Gold:
Ryan Chesley  (Mahtomedi) He was drafted in the 2nd round of the NHL draft by the Washington Capitals.
Connor Kurth  (Gentry Academy) Drafted in the 6th round by the Tampa Bay Lightning.
Cal Thomas (Maple Grove) Drafted in the 6th round of the 2021 draft by the Coyotes.
Luke Mittelstadt (Eden Prairie)
John Mittelstadt (Eden Prairie)
Garrett Pinoniemi  (Delano & Holy Family)
Jimmy Snuggerud (Chaska) Drafted in the 1st round #23 overall by the St. Louis Blues.
Charlie Strobel (Hill Murray)
Brody Lamb (Dodge County) Drafted by the New York Rangers in round 4 of this years draft.
Zach Wiese (Owatonna)
08-11-2022
Head on over to our Twitter Page and vote in the Class A section championship predictions for next season.  We will be running these for the next few weeks as the summer rolls along.
08-09-2022
Congratulations to Warroad MN Native TJ Oshie on having his #77 retired by the Warroad hockey community.  He has had a very impressive career at all levels from youth to the NHL.
08-05-2022
From Benilde St. Margarets high school hockey team here in MN, Forward Drew Stewart has committed to Notre Dame, he is an impressive player with great speed and gifted hands, congrats to him and the BSM Red Knights!

08-03-2022
The roster for Team Twin Cities Orthopedics, (for the Upper Midwest Elite League fall season) again filled with impressive MN High school hockey players!
08-02-2022
Yesterday was the first day underclassmen could commit to a college, as expected, Max Plante of the Hermantown Hawks (and now the US-17 team) elected to stay home and play for the UMD Bulldogs.  Congrats Max and best of luck in the future!
08-01-2022
Here is the roster for team MAP South for the Elite League which is scheduled to start September 10th.  Congrats to the lone Class A kids, Will Brown, (Delano) and AJ Reyelts (Proctor)
07-25-2022
FTP has learned today that Landon & Luke Steffen have transferred from Blaine to Roseville and will play their senior season for their dad!  (He is the head coach for the Roseville boys hockey team)
07-22-2022
The roster for team MPLS Magazine is loaded with MN talent:
07-21-2022
The rosters for the Upper Midwest Elite League have been released, first up is team SIT Investments:

07-13-2022
The roster for for the U17 Five Nations team is out, congrats to the MN kids on it.
Caleb Heil, Adam Kleber, Mason McElroy, Carson Pilgrim, Michael Risteau, John Stout, Dallas Vieau, Will Zellers.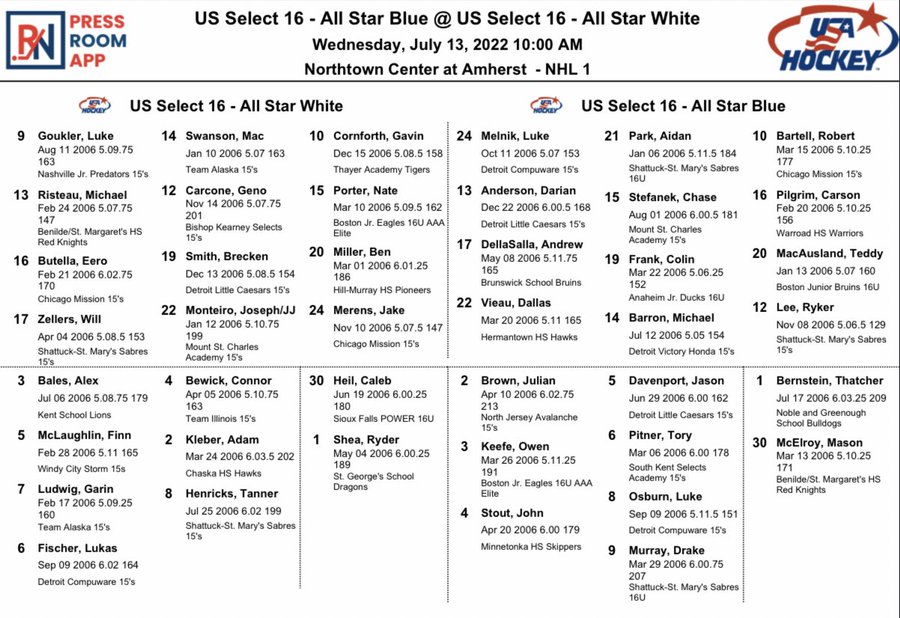 07-11-2022
Benilde St. Margarets (Red Knights) look to avenge the season ending 4-0 loss to Edina.  They lose their top 2 scorers in Adam Marshall and Brady Yakesh.  Drew Stewart and his 39 points will be leaned on heavily along with Brendan McMorrow (33 points) and as always the most important position on the ice will be back, Goalie Mason McElroy who went 17-5 and posted a 1.77 GAA and a .925 Save %.
07-08-2022
The Chaska Hawks high school hockey team saw 2 former players (and MN Gopher Commits) drafted in the first round of the NHL Draft.  Jimmy Snuggerud went #23 overall the to St. Louis Blues, and Sam Rinzel was picked #25 by the Chicago Blackhawks, congrats boys and best of luck!
07-07-202
The Minnetonka Skippers are poised to make some noise in the playoffs this upcoming season.  They return their top 3 leading scorers, Javon Moore 37 points, Gavin Garry 30 points and Hagen Burrows 26 points.  They will also return both goalies from last season, Beau Motzko (7-6-1) and Kaiser Nelson 7-3.  Don't be surprised if we see the Skippers down at the tourney next year.
07-05-2022
Is "the tourney 23" going to feature the Albert Lea Tigers?  They return most of the lineup from last season's team who was so close to making it.  They lost to New Prague in the section championship game 5-2.  Returning will be Joe Yoon 57 points last season, Tim Chalmers 38 points, Elijah Ferris 24 points, Jack Ladlie 23 points, Spencer VanBeek 23 points and the most important guy on the roster goalie Dakota Jahnke who posted a 17-7 record, with a 2.25 GAA and .920 Save %.  Good luck Tigers, we hope to see you represent at the X next March!
06-23-2022
Elk River looks to build off their 19-8-1 record last season.  They had an impressive run all the way to the section title game before ultimately falling to a very good Moorhead squad 8-4.  They lose the top 4 leading scorers but return impressive goalie Sam Stockman who had a 13-8-1 record and posted a 2.52 GAA and .915 save %, and as we know with a hot goalie anything can happen in hockey.

06-21-2022
In 2020-2021 the Eastview Lightning posted a 5-14 overall record, last season they were one step away from the state tournament, they lost to Cretin Derham Hall in the section 3AA championship game.  This upcoming season they look to get over that hump and make their first ever state tournament appearance.  John Kisch will be a huge part of that attempt, he had 33 total points last season.  They will also return Zach Wooten, Jordan Brothers and Charlie Ortman along with goaltender Jay Svaren.  Best of luck to the Eastview Squad next season!
06-20-2022
Noah Urness and his Roseau Rams will look to improve off last years disappointing finish to the season.  They had an overall record of 21-5-1 and were expected to make the 8AA section title game, however they fell victim to an under rated Elk River squad who had a nice run until they met Moorhead in the championship game.  Urness is one of the best Juniors in MN (if he comes back), and scouts would do themselves a favor to get to know this young man, great kid on and off the ice.
06-17-2022
Wayzata Trojan Goalie Will Ingeman is primed for a big senior season.  He posted a 16-9-1 record last year with a 1.74 GAA and .926 save %.  FTP would not be surprised to see the Trojans make a run to the tourney based on his talent.

06-16-2022
Congrats to Sartell player Tory Lund on his selection in the NAHL draft yesterday, 2nd round 50th overall pick by Minot.
06-15-2022
The NAHL draft begins today, click here to follow along and see which MN kids get drafted!  Good luck to all eligible players!
06-13-2022
Can the Monticello Moose repeat as section 5A champs and play at the Excel energy center again next year?  They will have some big shoes to fill as they lose the top 3 scorers from last years team.  (Wilson Dahlheimer 50 points, Gavin Simon 26 points and Brooks Wilson 22 points) Tyler Miller is the leading returning scorer with 21 points last year. They will also have to replace senior goalie Michael Biller who played a majority of the games.  Best of luck to the Moose next season!
06-10-2022
The Detroit Lakes Lakers will be looking to build on their 15-5-2 record from last season.  Head coach Ben Noah is doing a fantastic job at rebuilding that program.  They lose the top 2 scorers from a season ago but return a handful of good players, notably Jacob Thomas who put up 34 points as a defenseman, Cole Larson will also be back with his 31 points, Goalie Josh Mack should see the bulk of playing time after splitting duties last year.  The only downside of the program is they are placed in section 8A along with Warroad, East Grand Forks and Thief River Falls so it won't be easy to make that trip to the Tourney.
06-08-2022
The Lakeville South Cougars will be one of the favorites to win the state tournament in class AA next season.  After losing 5-2 to Moorhead in last seasons tourney they return Tanner Ludtke and his 61 points, (Nebraska Omaha commit) Aidan Willis, 48 points, and Ashton Dahms 42 points also return along with goalie Jack Hochsprung who was 21-5 last year and posted a 1.56 GAA and a .923 save %.  Watch out for the Cougars out of Section 1AA in 2022-2023.
06-07-2022
Cayden Casey looks to lead the Andover Huskies back to the state tournament again next season.  Last season the St. Lawrence University commit had 73 total points in the championship season, his teammate and leading scorer Gavyn Thoreson had 74 points, they are one of the highest scoring duo's coming back next season.  If the Huskies can find a replacement for goalie Austin Brauns they will be one of our picks to repeat as AA champs.
06-06-2022
The Mahtomedi Zephyrs return their top scorer from last season in David Wolsfeld.  During his junior season he had 50 total points and should look to expand on that this upcoming season.  If they can find a way to replace one of the best high school goalies we have ever seen (Ben Dardis) they have a good shot to be back at the state tournament again.
06-02-2022
The Little Falls Flyers return some key players from last seasons team.  They scored 174 total goals and gave up just 74.  Matt Filippi will return for his senior season, last year he had 75 points total so look for him to try push for 100, Sophomore Carter Oothoudt had 59, 9th grader Joey Welinski chipped in 22 points.  If the Flyers can find some consistent goaltending they could be an interesting team to keep an eye on.
06-01-2022
Check out who is on the FTP list for the Frank Brimsek award heading into next season. (Best Senior Goalie)  Click here to see that list and let us know who else we should include.
05-31-2022
Are you wondering who are players to watch heading in to next season?  Click here for our list of players that will graduate in 2023 and are on the FTP radar.

05-21-2022
This week FTP is visiting the wonderful town of Nashville Tennessee, (we may not post anything else until after Memorial Day) if you have never been, Broadway street is unbelievably busy starting at about 10:00 am through 3:00 am.  If the party scene is your thing it's probably the place to visit, if that's not your scene it's still fun to see, and while here I recommend checking out Bridgestone arena, similar to the Excel Energy Center it's a top notch facility.
05-19-2022
Former Delano Tiger Goalie Cade Lommel is now in his 2nd season with Creighton as a pitcher.  His longest outing so far this season is 7.1 innings, he allowed 6 hits, 2 runs and had 9 strikeouts.  Keep up the good work Cade, it's fun to see former MN High School Hockey Players living their best life!
05-17-2022
Jake Ottinger from Lakeville MN, had an excellent (although short) postseason performance with the Dallas Stars.  Through 7 games (430 minutes of ice time) he posted a 1.81 GAA, .954 save % and 1 shutout.  The Stars lost in OT of game 7 to the Calgary Flames.  Big things ahead in the NHL for another MN High School Hockey player!

05-16-2022
Out of the Big South Conference Luverne hopes to build on the 15-11 season from last year.  They return their top scoring players from last season in Brock Behrend (11), Patrick Kroski (10) and Owen Sudenga (10).  Behrend had 29 Goals and 29 assists in 26 games, Kroski had 22 Goals and 33 assists and Sudenga had 14 Goals and 23 assists.  Fellow 10th Graders Henry Hartquist chipped in 7 Goals and 17 assists while Elliot Domagala had 11 Goals and 13 assists.  10th grade Goalie Tyler Arends played every game and posted a 3.16 GAA and a .903 save %.  Assuming they all return watch for Luverne to challenge for a state tournament entrance out of section 3 next season.
05-13-2022
Kittson County Central Player, Tyler Hennen, will enter his 5th year of Varsity hockey next season.  To date he has played in 88 games, has 92 goals, 103 assists for a total of 197 points, well done young man and best of luck during your senior year.

05-12-2022
Rochester Lourdes sophomore goalie Xander Carter-Kleven was a big part of his teams 18-6 overall record.  He posted a 1.91 GAA and .930 Save %.  He will be a big part of this team for the next 2 years should he decide to stick around.  Watch for the Lourdes to make a run to the state tournament of section 1A in the next few years.

05-11-2022
The Chaska Hawks return one of the most dynamic teams they have ever had.  After posting a 22-6 record and losing out to Prior Lake in the section title game they look to bounce back in a big way.  The leading scorer from last season was 10th grader Sam Scheetz, (22 Goals 18 Assists). Future Gopher Sam Rinzel, if he returns for his senior season will be a Mr. Hockey candidate, he is an electric player and looks to guide his team to its first ever state tournament appearance.
05-10-2022
The Mora Mustangs had a great season this past year.  They had an overall record of 18-6-2, (lost to St. Cloud Cathedral in Section play 4-3) Their leading scorer was Parker Mitchel with 55 goals and 32 assists.  His team-mate and fellow senior Jack Kritzeck had 25 goals and 35 assists.  The leading returning scorer will be defenseman Trenton Fore, he ended the year with 12 goals and 30 assists.  You don't typically see a Defenseman as one of the leading scorers so that will be something to keep an eye on next season.  His stats are below and will be updated next season as they accumulate.

05-09-2022
The Hermantown Hawks were your highest goal scoring team last season, they had 61 First Period Goals, 68 Second period goals, 49 Third period goals and 2 Overtime goals for a grand total of 180 goals scored.
05-06-2022
Our way to early Class AA 2022-2023 rankings will be emailed out today, Click Here to sign up for the email to receive these, then hit reply to let us know how wrong we are.
05-05-2022
The Orono Spartans have hired a new coach.  Sean Fish was previously the girls head coach and guided them to a 3rd place state finish.  He has also spent time at St. Michael, Anoka and the NAHL. Best of luck coach, FTP is very high on the Spartans for next season.
05-04-2022
Check out our preseason list of MR. Hockey candidates for 2023 here.  Who else should be included, email us ftp@followthepuck.com
05-03-2022
Mike Randolph has been named the head coach at St. Thomas Academy for next season.  Mike brings an impressive resume to that position and should have the Cadets competing for a state appearance in no time.  It will be fun to see what transpires with this pairing.
04-30-2022
The MN Wild have clinched home ice in round one of the Stanly Cup Playoffs.  They will play the St. Louis Blues who have dominated the Wild this season.  Hopefully the boys can turn that around when it matters
04-29-2022
The FTP 2022-2023 Class A Pre-season rankings come out today, click here to sign up for the Email, then hit reply and let us know how wrong we are.
04-26-2022
Hagen Burrows, (Minnetonka) leads all the skaters at the HP-17 Festival (2005 Birth years) after the first weekend, Through 3 games he has 6 total points.  Stats below are his career so far.

04-25-2022
Tory Lund, (Sartell) and Bryce Laager (Blaine) lead the Ted Brill/Great 8 Festival after the first weekend (4 games played) in total points with 7 each.
04-22-2022
The Sartell Sabres will be an interesting team to keep an eye on next season, they return the top scorers from a season ago in Tory Lund (54 points) and Parker Comstock, (38 points)  Unfortunately for they are in the always tough section 8 for playoffs and Moorhead will be a top notch team next season.
04-21-2022
The Ted Brill Great 8 tournament begins this weekend at the Doug Wooge Arena.  This tournament is for seniors to get another shot to play in front of scouts and other people in the hockey world, and also for underclassmen to get a jump start on next season.  Full rosters and schedules can be seen here. Good luck to all those who were chosen to play.
04-20-2022
Lakeville South goalie Jack Hochsprung had an excellent junior season.  Through 30 games he was 21-5 with 7 shutouts, posted a 1.56 GAA and .923 Save %, he will be a key player in the Cougars quest for another state tournament run.
04-19-2022
Garrett Raboin, from Detroit Lakes MN, also played for the Lincoln Stars of the USHL and the St. Cloud State Huskies, has been named the head coach at Hamline University.  He spent the past 3 seasons as an assistant with Bob Motzko and the MN Gophers.  Best of luck Garrett!
04-18-2022
As referenced below Ben Meyers signed with the Colorado Avalanche and it didn't take him long to make an impact, here is his first NHL Goal, congrats to a kid from small town MN.

04-15-2022
St. Thomas Academy and head Coach Trent Eigner parted ways a few weeks ago, Eigner was surprised his contract was not renewed.  We are hearing that several well known coaches applied for that job, some with state championship experience, it will be interesting to see who they decide to hire.
04-14-2022
Ben Meyers, former Delano Tiger and University of Minnesota Star, recently signed with the Colorado Avalanche as a college free agent.

04-13-2022
Moorhead sophomore goalie Kai Weigel is going to attempt to lead his team to a state title next season.  Last year through 27 games he played 1380:12 minutes, had a record of 20-5-1, a GAA of 2.33 and save % of .899 with 4 shutouts.
04-12-2022
Sophomore sensation Louie Wehmann, out of Providence Academy, leads the way for his squad as they look to come out of the heavily contested Section 2 next season.  Through 27 games he had 34 goals and 27 assists.
04-11-2022
Hermantown stud sophomore Max Plante, has opted to sign with the USA U-17 team and will most likely be done with his high school career after 1 season and a state championship.  He is a strong skater with excellent hockey IQ, big things ahead for Max.
04-08-2022
Ryan Sandelin, (Hermantown/Minnesota State Mankato) and his Mavericks will play for the NCAA national championship game tomorrow night vs. Denver.  The Mav's have won 18 games in a row and are looking for their first ever National Title.  Ryan has 21 Goals and 12 assists thru 40 games this season.


04-07-2022
Rogers junior goalie Cade Chapman will be asked to lead his team to the state tournament next year, he is coming off a great season in which he went 19-8-1, 1428 minutes logged and posted a 2.57 GAA and save percentage of .904.
04-06-2022
Little Falls Junior Matt Filippi had a breakout year last season, he played in 27 games, had 35 Goals and 40 Assists for 75 total points, view the entire list of high scoring returning players here.
04-05-2022
Jayson Shaugabay, (Warroad) leads the players eligible to return for the senior season with 81 points last season, he is committed to play at the University of Minnesota Duluth.
04-04-2022
The Northfield Raiders lose only 4 seniors to graduation, Spencer Klotz and his 91 points will be hard to replace, however they have a talented group of underclassmen including the 2nd leading scorer on the team, 10th grader Kamden Kaiser who had 52 points last year.
04-03-2022
Robbie Clarkowski (Goalie) of the Edina Hornets is a big reason they are ranked in our top 10 Class AA preseason rankings.  He had a excellent season, 21-9 record and had a 1.86 GAA along with a .923 Save %.
04-02-2022
Sophomore Noah Urness from Roseau is on our players to watch list. This past season he was second on his team in scoring, Thru 27 games he had 24 Goals and 35 Assists for 59 total points.  As a freshman he played in 21 games, had 6 Goals and 12 Assists.   He is tied for 4th place among skaters his grade that are eligible to return next season,  Click here for the top 30 list.

04-01-2022
Max Plante, Hermantown, is our top rated sophomore skater (he will not be returning), he is the returning leading scorer for the 2023-2024 graduates.  Last season thru 31 games he had 18 goals, 53 assists for 71 total points.  To view the top 30 in that grade click here.

04-01-2022
Wyatt Farrell out of La Crescent Hokah (10th grade)  had a standout season.  Thru 26 games he put up 49 Goals, 13 Assists for a total of 62 points.  His Junior season should be a fun one to watch.
03-31-2022
Kamryn Van Batavia out of Luverne MN, (committed to Minnesota State Mankato) had ridiculous stats this past season.  In 28 games she put up 83 goals and 44 assists for a total of 127 points.  The best part is she's just a Junior so we will get to see her try and top that next season!

03-31-2022
Since the 2009-2010 season, Warroad has lost to East Grand Forks 9 times in the playoffs.
03-30-2022
Did you know the leading freshman scorer this past season in (boys) MN High School hockey was Malachi McKinnon out of Forest Lake.  He had 52 points in 27 games.
03-30-2022
Academy of Holy Angels freshman star Henry Lechner was 3rd on his team in scoring with 39 points in 23 games played.  He also played in the first ever FTP/MNHShockeytalk Top Prospects game.  This kid has a bright future.
03-29-2022
Oliver Moore, (former Totino-Grace standout) and Gopher commit has 41 points thru 49 games for the U-17 National team.
03-29-2022
Ryan Chesley, Mahtomedia MN, Shattuck St. Marys, US U-18 team and future Gopher is currently ranked #26 by Smaht Scouting who provides services to the NHL.
03-29-2022
Blake Biondi, Hermantown /UMD  & Gino Guyer, Greenway  are the only Class A players to win the MR Hockey award in the past 20 years? Biondi won it in 2020 and Guyer in 2002.
03-29-2022
Did you know Jimmy Snuggerud (Chaska) is currently 5th in total points for the NTDP with 54?
He is rated "Group B" skater by NHL Central Scouting on the 2021-22 Players to Watch rankings…Committed to University of Minnesota…Son to Dave and Ann, brother to Ellie, Enna, and Jake…Favorite NHL player is Mitch Marner…Favorite book is Legacy.
SOCIAL: 
Instagram: @jimmy.snuggerud
Twitter: @Jsnuggerud
03-29-20222
MOORHEAD SPUDS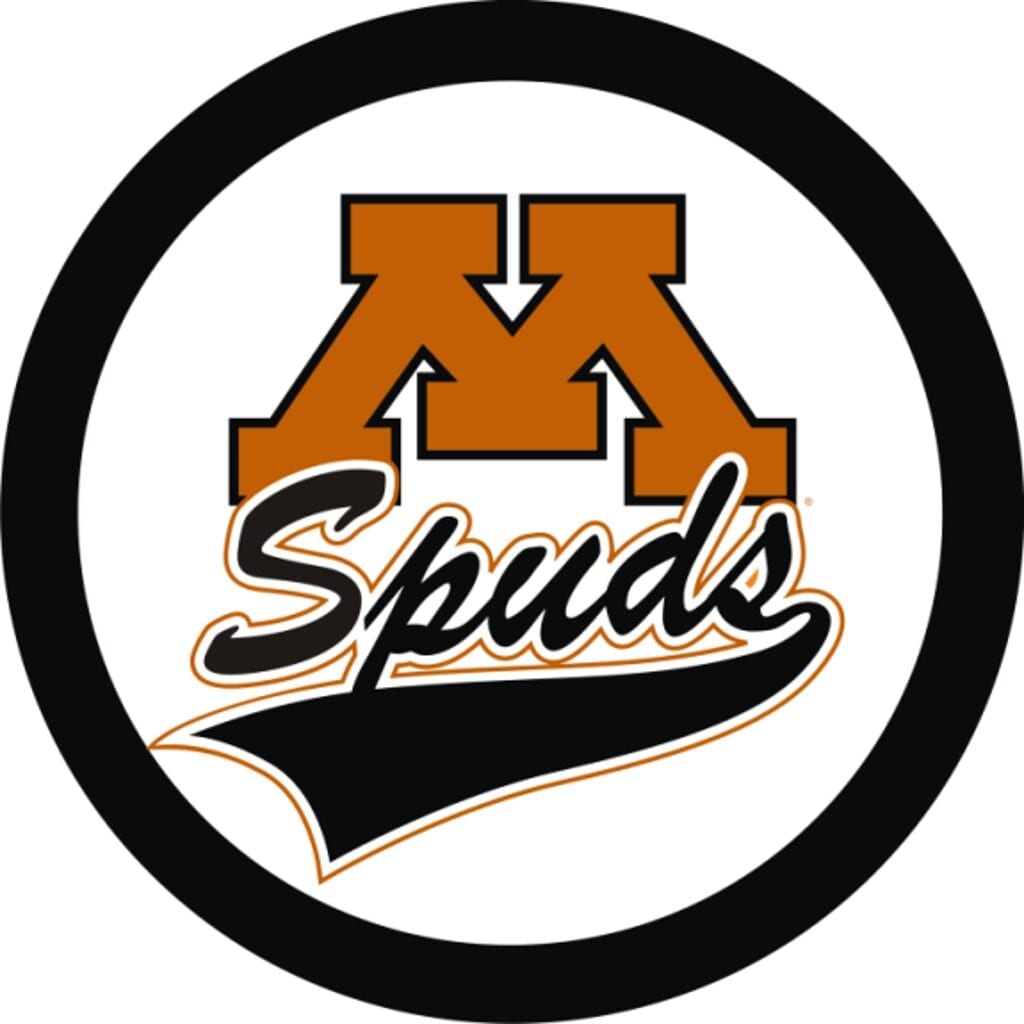 Did you know the Moorhead Spuds have made it to 22 straight section title games, but have not won the state tournament yet?  That may change in the next few years however.