Hockey helmets. The single most important piece of equipment any hockey player, or hockey parent will buy. A lot of folks ask us to do some deep dive of "hockey helmet ratings", or the best hockey helmet for concussions, or whatever the situation, but to be completely honest the helmet is one piece of equipment where you cannot go wrong shooting for the top of the list.
Did you just tell me to go out and buy the most expensive hockey helmet on the market? Well, yes, sort of. When it comes to finding the safest hockey helmets, a lot of people look to their favorite pros. Here's something to consider. Your favorite NHL player is taking a calculated risk with the helmet they're wearing. Heck, half of the league wouldn't wear a visor if they didn't have to.
There are only four brands that we'll recommend for helmets. Bauer, True, CCM and Warrior. Whether you're looking for a helmet for wide heads, or simply something you're required to wear because you're coaching this year, these four brands are the kings in the helmet space.
So, without further ado, here it is.
These are the best hockey helmets for 2022.
As we said earlier, the hockey helmet is a very important piece of equipment for hockey players, it's literally what keeps our brain safe.  It's a rough sport and anything can happen, you want to be prepared for everything, even if you are playing non-contact hockey.  It's not difficult to run into someone or slip into the board and hit your head.  In such a case, you want the best helmet that you can possibly can get to keep you safe.
The Most Protective Hockey Helmets Money Can Buy
The biggest factors that to keep in mind while buying a new helmet is protection, comfort and price.  Experts say that a comfortable helmet will protect the brain more the a highly protected helmet that is uncomfortable.
Now we do want to note that a helmet simply cannot completely reduce the chance of getting a concussion, but it can lower the risk of one.  In our opinion, it is worth it to give yourself the best chance at reducing the chance of a concussion or another brain injury.
You only get one.
Bauer Vapor Hyperlite
Editor's Choice for Best Overall Hockey Helmet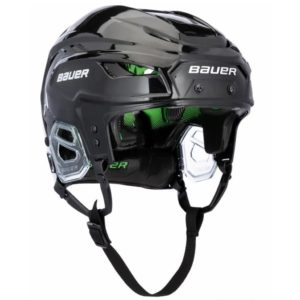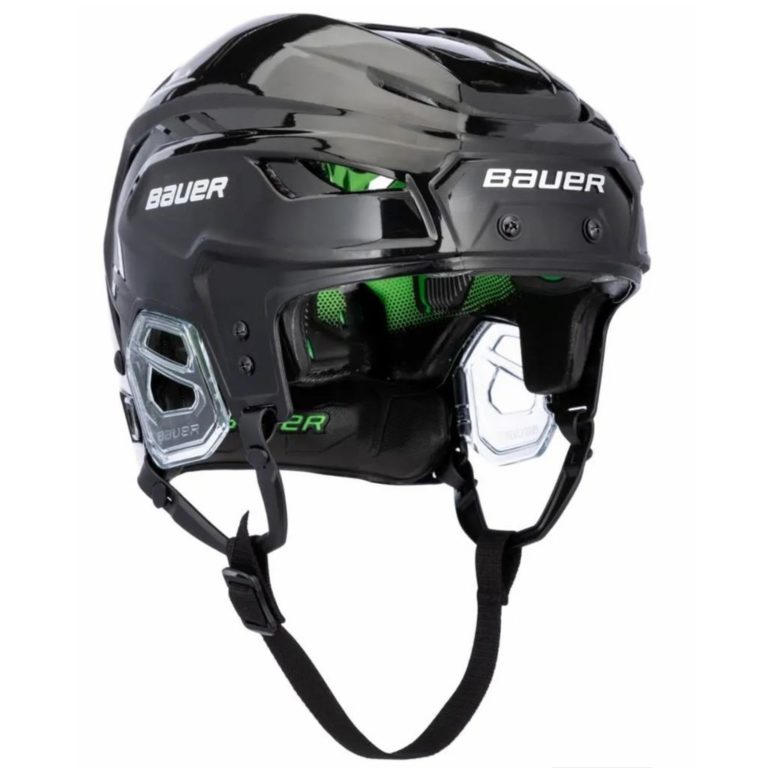 If you are looking for an elite helmet and aren't afraid to drop a couple bucks… the Bauer Hyperlite is the best option to go with.  Hands down, no questions asked.  The new technology that it features blows any of the other helmet out of the water.
Advantages: 
New sleek look and design
Updated foam and internal padding for better protection and comfort
Two helmet sizes
Adjustable for best fit
20% lighter than the Re-Akt 150
CSA, HECC, CE certified
Disadvantages: 
Most expensive helmet on the market
Hasn't been tested yet
As you can see, this is hockey helmet is very technologically advanced.  It's 20% lighter than previous helmet that Bauer released, the popular Re-Akt 150.  The design is a bit sleeker than most other helmets on the market as well.  No looking like a big head out on the ice here!
Comfort-wise there aren't many that can compete with the Hyperlite.  The reason being is that the new Shocklite foam with a bit of XRD foam allow for a snug fit to your head.  Combine that with the fact that you can get this helmet in both small/ medium and medium/ large and tool free adjustability.  Comfort is definitely one of the most aspects of a hockey helmet.
One of the most important things to remember in a helmet is that if it fits and is a comfortable fit, you are doing yourself a favor when you do get hit in the head.  The reality is that if the helmet doesn't fit, it doesn't do much protecting.
A concern would be that this helmet isn't exactly cheap.  I'm not here to convince you one way or the other, but you do only get one brain.  And hockey is a contact sport, so it's not exactly a bad idea to protect it… But there are other helmets that also do a really good job protecting your head.  This helmet is for those of you that really want the best of the best.
Editor's Choice for Best CCM Hockey Helmet
The CCM Tacks 910 is the newest helmet that CCM has released for 2022.  Here's what we did and didn't like about it.
Advantages: 
Protective pro preferred shield
Comfortable (I.Q.Shion Memory Foam)
Tool free adjustable
High impact absorption with Fluid Inside Pod Matrix tech
Sleek fit
Disadvantages: 
The CCM Tacks 910 is one of the most technologically advanced hockey helmets for 2022.  CCM paired with the Neurotrauma Impact Science Laboratory in Ottawa to engineer it for premium safety and comfort.  If you aren't a Bauer fan, this is the best CCM helmet that you can get.  Even though we placed it in the second spot, it definitely could be our #1.
It features I.Q. Shion Memory foam for ultimate comfort and Fluid Inside Pod Matrix that is strategically placed throughout the helmet to absorb the most impact possible.  And as I was saying earlier, comfort is super important when it comes to hockey helmets and hockey gear in general.  Not only that, but with this helmet you can get a perfect fit as it's tool free adjustable.
Again, the price isn't exactly cheap, but it's the best you can get if you're a CCM fan.
The Bauer RE-AKT 200 helmet is one of the safest hockey helmets on the market.  It is a couple years old now, but it stills performs at that top tier level and is worn by many hockey players today…
Advantages:
One of the best helmets for protection
Can be baked for perfect fit to your head
Sweat control technology
VN and VTX foam is lightweight and protective
Ventilated airflow
25% more protective than the Bauer RE-AKT 100
Disadvantages: 
Bit bulky
Requires a screwdriver to adjust
Price
The Bauer RE-AKT 200 is the best overall hockey helmet that Bauer has ever released.  It's one of the highest impact rated helmets (according to Virginia Tech Ratings) on the market and features high density VN and VTX foams.  It's very protective and will keep your head safe.
It also features moisture channels that keeps sweat out of your eyes while playing hockey.  This helmet also has a ventilation system that keeps airflow moving, keeping you cool on the ice.
The best part about this helmet?  The removable backplate can be heated and molded to get the ultimate fit for your head, making it one of the comfiest helmets that you can get.
It is a bit bulky compared to other helmets and it requires a screwdriver to adjust but otherwise, this helmet is the one I would recommend the most.
Editor's Choice for Best Hockey Helmet For The Money
The Bauer RE-AKT 150 is the best hockey helmet for the cash.  Here's what we did and didn't like about it.
Advantages:
Tool free adjustability (18 mm of width adjustment)
Very comfortable
High impact absorption
Sleek fit
XRD and VTX foam designed for all types of collisions
Disadvantages: 
Impact absorption is better than the sweat absorption
Price
The Bauer RE-AKT 150 is a very popular helmet amongst hockey players alike for many reasons.  For one, it's very comfortable.  It has a large adjustability length with three separate areas on the helmet that can be adjusted.  All three of the areas do not require the use of a screwdriver either.
It doesn't have the custom-heat-moldable fit like the RE-AKT 200, but the 18mm in width adjustment really allow for a comfortable fit.  It's also a sleek helmet which is nice because if you're going for style, this works.
The foam within the helmet is designed to absorb impacts of all ranges.  As we said earlier, you cannot totally erase the chance of injury with a helmet, but this is one of the best helmets you can get to reduce the chance of injury.
The one issue this helmet does have is the sweat doesn't have channels to escape into, sometimes causing sweat to drip onto the face.  It's part of the reason why it is cheaper than the RE-AKT 200.
Overall, players of any level will appreciate this helmet.  It isn't the most expensive one out there, but it isn't exactly cheap either.  It's got good protection and is a comfortable fit for most players.  The best part about it is that it looks good.  You can't go wrong there.
Here's what people were saying about it:
"Major upgrade for both my kids, and liked it so much I got myself one as well!"

"This helmet fits great, adjusts to any size head. No pressure points and soft foams."
Editor's Choice For Most Technologically Advanced Hockey Helmet
The True Dynamic 9 Pro is a great helmet and is very advanced in terms of protection.  Here's what we did and didn't like about it. If you'd like more, we did do an in depth True Dynamic 9 helmet review elsewhere on The Hockey Guys, so don't hesitate to check that out.
Advantages: 
MIPS technology makes it one of the best impact absorbing helmets
Ultra-lightweight design
Interchangeable rear and side occipital Fitpads
EPP foam absorbs impacts
Disadvantages:
Bauer and CCM cages don't fit very well on this helmet
Price
Warrior Alpha One
The Warrior Alpha One is a very advanced hockey helmet.  Here's what we did and didn't like about it.
Advantages: 
Lightweight but protective
Viconic diffusion plate technology absorbs impact
BOA Adapt Fit 360 allows for customized fit
EPP foam protects the brain from large collisions
Cool and comfortable
Disadvantages:
The Warrior Alpha One is a very technologically advanced hockey helmet.  It features BOA's Adapt Fit 360 technology which allows for a super quick size adjustment of the helmet.  No tools required.  The Viconic diffusion plate and implementation of EPP foam is engineered to take the brunt of a large hit, reducing the chance of injury.
There is also Impax soft-touch foam within the helmet to protect you from smaller forces of impact.  The entire helmet is created in such a way that regardless of which angle the impact comes from, it will distribute the shock throughout the helmet and absorb much of it before it causes damage to the brain.
Bauer RE-AKT 75
Editor's Choice for Most Affordable Hockey Helmet
The Bauer RE-AKT 75 hockey helmet is a great helmet for players on a true budget, but need something that will still offer protection against a collision.  Here's what we did and didn't like about it.
Advantages: 
Designed to be a highly protective helmet at a low cost
Multi density foam for impact absorption
Tool-less width adjustability
Poron XRD foam
Seven+Tech is implemented in the back of the helmet to absorb shock
Disadvantages:
Not as impact absorbing as other top hockey helmets
The RE-AKT 75 hockey helmet is one of the best choices in terms of hockey helmets you can make if you don't have a cash.  Now we don't typically like to recommend cheaper products, but if you can't afford a RE-AKT 200, well you still want to have the most protection you can get in helmet.  The RE-AKT 75 has Seven+Tech in the back of the helmet to absorb shock.
It also has multi-density foam throughout the helmet and Poron XRD foam in the temples to absorb any shock that gets past the shell.  The sides of the helmet can be adjusted laterally without tools which gives you the best comfort in a helmet within this price range.   Overall this is a super popular hockey helmet because of it's quality comfort and protection for such a low price.
The CCM Fitlite 3DS Junior Combo is a very popular hockey helmet for youth hockey players.  Here's what we did and didn't like about it.
Advantages:
Easily adjustable (tool-less)
Cage is designed for children
Easy clip strap
Multi-density foams for protection
D30 foam in the back for extra back-of-the-head protection
Very reasonable price
Disadvantages: 
The CCM Filite 3DS Junior Combo hockey helmet is the best helmet you can get for your kid.  It's super easy to adjust and the chin strap is designed to be for simpler for kids to clip on.  It has good protection with a 2-piece shell design and multi density foam to absorb shock.
It also has additional D30 foam on the backside of the helmet to further protect the back of your child's head.  Not only that, but the cage is made specifically for growing children.  Finally, the price is super reasonable.  Especially for both the helmet and the cage.  Overall, this is the best helmet for youth hockey players.
Wrapping It Up
The hockey helmet is the most important piece of equipment that you can get as a hockey player.  Hockey is a rough sport, and your head is constantly getting knocked around. Invest in a helmet that's highly rated, not just one that your favorite pro wears.
You want to have something to protect your head, as you only have one of them.  Make sure that the helmet is both protective and comfortable as they are the only two very important features that you must keep in mind while playing.  Thank you for reading and I hope it helped!