SCOREBOARD
December 28th, 2018
ARMSTRONG/COOPER HOLIDAY CLASSIC
New Hope Arena | Semifinals
Willmar 6, Princeton/Becker/Big Lake 1
WIL: Madison Garberding Hat Trick, Mya Monson 2g, 2a
WIL: Bailey Olson 1g, 1a
WIL: Savana Knutson 31 saves
PBBL: Unknown 1g
PBBL: Emily Pangerl 21 saves
GWG: Bailey Olson 1P 10:43
Academy of Holy Angels 4, Prior Lake 3
AHA: Bridget McGuire 2g, 2a, Madysen Palmer 1g, 1a
AHA: Abigail Bercich 1g
AHA: Leah Lood 19 saves
PL: Brooke Holmes 1g, Payton Bloedow 1g
PL: Charlotte Huntington 1g
PL: Brianna Elbon 22 saves
GWG: Bridget McGuire 3P 5:18
New Hope Arena | Consolation Semifinals
Robb Armstrong/Cooper 8, CPET (ON, MN) 0
RAC: Leah O'Brien 1g, 2a, Isabelle Kriesel 1g, 2a
RAC: Caitlin Quinn 1g, 1a, Makenzie Johnson 1g, 1a
RAC: Hailey Mattson 2g, 1a, Jenna Ott 1g, 1a
RAC: Autumn Lindgren 1g, 1a, Unknown 1g
RAC: Nikki Harnett 8-save shutout
CPET: Janvier Trudel 33 saves
GWG: Caitlin Quinn 1P
Bemidji 3, Waconia 2
BEM: Gracie Fisher 1g, Maddie Hanson 1g
BEM: Maggie Marcotte 1g
BEM: Nettie Kimble 19 saves
WAC: Mallory Vacek 1g, Madison Denzer 1g
WAC: Abigail Elvebak 46 saves
GWG: Maggie Marcotte 2P 12:00
---
BULLDOG HOLIDAY TOURNAMENT
LeSueur Community Center | Second Round
Mankato West 5, Minnehaha United 4 OT
MW: Lindsey Hays 2g, 2a, Caitlin Hvinden 1g
MW: Molly Grundhoffer 1g, Allyson Grabianowski 1g
MW: Sarah Olsen 33 saves
MU: Ava Wasserman 2g, Eva Larson 1g, Jodie Clay 1g
MU: Rebecca Skweres 25 saves, Maddie Duca 3a
GWG: Lindsey Hays OT 7:27
Rochester Century 7, Minnesota River 2
RC: Elizabeth Oyen Hat Trick, 2a, Victoria Johnson 2g, 1a
RC: Kylie Lund 1g, Grace Oyen 1g
RC: Macy Lund 10 saves
MR: Whitney Weick 2g
MR: Madison Kisor 35 saves
GWG: Elizabeth Oyen 2P 5:44
---
BURNSVILLE HOLIDAY TOURNAMENT
Burnsville Arena | Third Round
Burnsville 3, Hudson (WI) 1
BUR: Jenna Hartung 1g, Aubrey Nelson 1g
BUR: Katie Katzmarek 1g
BUR: Maria Widen 22 saves
HUD: Sydney Hendricks 1g
HUD: Amelia Halunen 35 saves
GWG: Aubrey Nelvin 2P 3:56
Apple Valley 3, Park (Cottage Grove) 0
Final
---
HOCKEYTOWN HOLIDAY CLASSIC
The Gardens Arena | Third Round
Warroad 2, Dodge County 0
WAR: McKenzie Oelkers 1g, Hannah Corneliusen 1g
WAR: Quinn Kuntz 16-save shutout
DC: Sky Hughes 33 saves
GWG: McKenzie Oelkers 3P 4:12
Rosemount 3, Osseo/Park Center 0
ROS: Ava Nygaard 1g, 1a, Anna Shandorf 1g
ROS: Lucy Jagoe 1g
ROS: Brynn Kimel 14-save shutout
OPC: Mackenzie White 32 saves
GWG: Anna Shandorf 2P 1:01
---
KAPOSIA CLASSIC
Doug Woog Arena | Quarterfinals
Roseville 1, Mounds View 0
Final
Hill-Murray 7, Lakeville South 1
HM: Katie Kaufman 2g, 2a, Allie Franco 1g, 3a
HM: Nina Steigauf 1g, 2a, Kennedy Morris 1g
HM: Ava Stinnett 1g, Corrine Brown 1g, Haylee Blinkhorn 3a
HM: Rachel Kennedy 12 saves
LS: Madison McKinney 1g
LS: Becca Macklin 42 saves
GWG: Katie Kaufman 2P 4:20
Elk River 3, Champlin Park/Coon Rapids 2
Final
South St. Paul 2, Hibbing/Chisholm 1
SSP: Lilie Ramirez 1g, 1a, Gabby Madigan 1g
SSP: Delaney Norman 19 saves
HC: Dorothy Kearney 1g
HC: Abby Edstrom 38 saves
GWG: Lilie Ramirez 3P 8:08
---
LOUIS SCHMITZ HOLIDAY CLASSIC
Schmidt-Maki Arena | Third Round
Farmington 7, New Prague 3
FAR: Samantha Moehle 2g, 1a, Claire Enright 1g, 2a
FAR: Brenna Fuhrman 1g, 2a, Carly Lancaster 1g, 1a
FAR: Grace Auge 1g, 1a, Ava Johnson 1g
FAR: Ryleigh Furlong 20 saves
NP: Lauren Moravchik 1g, 1a, Lindsey Bjerke 1g, 1a
NP: Kaitlyn Blair 1g, 1a
NP: Mariah Marek 38 saves
GWG: Ava Johnson 2P 7:09
Simley 1, Eastview 0
SIM: Olivia Juers 1g
SIM: Ava Patnode 22-save shutout
EVW: Amelia Julian 20/21 svs, Lauren Johnson 10/10 svs
GWG: Olivia Juers 2P 1:32
Hutchinson 3, Hastings 1
HUT: Ainslea Jensen 1g, Maddy Seifert 1g, Britta Johnson 1g
HUT: Hannah Ladwig 39 saves
HAS: Taylor Larson 1g
HAS: Lauren Dubej 23 saves
GWG: Maddy Seifert 3P 6:11
Lakeville North 2, Northfield 0
LN: Katie Doll 1g, Olivia Mattis 1g
LN: Kallie Schneider 18-save shutout
NFD: Rachel Bielenberg 23 saves
GWG: Katie Doll 2P 11:06
---
MID-WINTER BORDER BATTLE
Fogerty Arena | Semifinals
Forest Lake 5, Central Wisconsin (WI) 1
FL: Brooke Remington 2g, 1a, Ashley Mills 1g, 1a
FL: Lillian Walesheck 1g
FL: Allyn Goehner 15 saves
CW: Macy Stepan 1g
CW: Katrina Fredrickson 33 saves
GWG: Emma Schaefer 1P 1:40
Fergus Falls 5, Blaine 3
FF: Vivian Karsnia 2g, Piper Andrews 1g, 1a
FF: Sophie Rausch 1g, 1a, Maddie Hulter 1g
FF: Mady Eklund 20 saves
BLN: Ramsey Parent 2g, Dani Brunette 1g, 1a
BLN: Hailey Hansen 29 saves
GWG: Maddie Hulter 3P 13:40
Fogerty Arena | Consolation Semifinals
White Bear Lake 4, Hopkins/St. Louis Park 2
WBL: Lauren MacLean 1g, 1a, Maren Schoeberl 1g
WBL: Ashlyn Jungwirth 1g, Sophie Verkerke 1g
WBL: Calla Frank 25 saves
HSLP: Erin Brousseau 2g
HSLP: Leah Bosch 15 saves
GWG: Ashlyn Jungwirth 3P 2:05
Anoka 2, Bismarck (ND) 1
ANO: Trinity Gillen 1g, Maddie Mashuga 1g
ANO: Abby Johnson 19 saves
BIS: Madison Brown 1g
BIS: Karsyn Hellman 19 saves
GWG: Maddie Mashuga 2P 15:57
---
MID-WINTER MELTDOWN
Eden Prairie Comm Center | Semifinals
Roseau 2, Minnetonka 1
ROS: Kate Helgeson 1g, Reese Strand 1g
ROS: Kiana Flaig 31 saves
MIN: Lacey Martin 1g
MIN: Brynn Dulac 22 saves
GWG: Reese Strand 3P 15:20
Eden Prairie 4, Benilde-St. Margaret's 2
Final
Eden Prairie Comm Center | Consolation Quarterfinals
Shakopee 4, Chaska/Chanhassen 4 OT
SHK: Paige McNeil 1g, 2a, Emily Roder 1g, 1a
SHK: Olivia Grabianowski 1g, Makenzie Bachelor 1g
SHK: Brianna Eastman 23 saves
CC: Brier Ziemer 1g, 1a, Katelyn Roberts 1g
CC: Grace Doerring 1g, Lauren Spear 1g
CC: Olivia Rinzel 29 saves
Note: Shakopee won the shootout, advances to the 5th place game.
Eagan 3, Cretin-Derham Hall 2
EAG: Maddie Pladson 2g, Julia Barger 1g, 1a
EAG: Emily Cronkhite 3a
EAG: Maddie Nickell 33 saves
CDH: Cece Ziegler 1g, Stella Dolan 1g
CDH: Kaelie Smith 24 saves
GWG: Julia Barger 3P 16:31
---
SARTELL/SAUK RAPIDS HOLIDAY CLASSIC
Bernick's Arena | Second Round
Sartell/Sauk Rapids 4, New Ulm 0
SSR: Brooke Walters 2g, 2a, Anna Orth 1g, 2a
SSR: Rachel Wieland 1g, 1a
SSR: Madison DeMarais 15-save shutout
NU: Cassie Reed 24 saves
GWG: Brooke Walters 1P 0:48
St. Cloud 4, West Fargo (ND) 1
Final
---
SCHWAN'S CUP - GOLD DIVISION
Ridder Arena
Championship
Blake School 4, Andover 3
BLK: Lily Delianedis 1g, 3a, Izzy Daniel 1g, 2a
BLK: Madeline Wethington 1g, 1a, Adelaide Burton 1g
BLK: Ava Christie 16 saves
AND: Gabby Krause 2g, Peyton Hemp 1g, 1a
AND: Cassidy Stumo 31 saves
GWG: Madeline Wethington 3P 15:48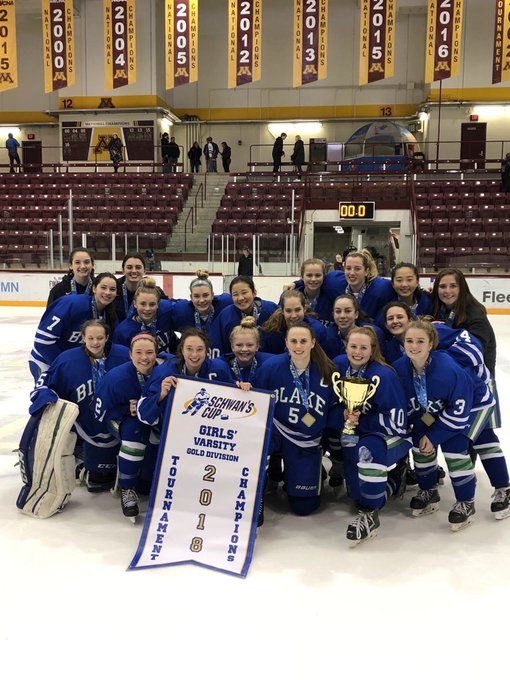 Credit: @therealBGH on Twitter
Third Place
Centennial 4, St. Paul United 2
CEN: Summer Francis 2g, 2a, Megan Goodreau 2g, 1a
CEN: Mackenna Stoterau 26 saves
SPU: Catherine Kerin 1g, Madison Shuman 1g
SPU: Bridget Emerson 16 saves
GWG: Summer Francis 3P 3:54
Fifth Place
Rogers 3, Proctor/Hermantown 3 OT
ROG: Marie Reimer 2g, 1a, Samantha Scherling 1g, 2a
ROG: Hailey Hartlage 27 saves
PH: Alyssa Watkins 1g, 1a, Ella Anick 1g, Michaela Phinney 1g
PH: Ryan Gray 19 saves
Note: Rogers won the shootout, wins 5th place.
Seventh Place
Holy Family Catholic 5, Mahtomedi 0
HFC: Taylor Koeppl 2g, 1a, Caitlyn Rock 1g, 2a
HFC: Cecily Cronin 1g, Briar Charchenko 1g, Sadie Long 3a
HFC: Alex Pellicci 16-save shutout
MAH: Lauren Hamme 17 saves
GWG: Cecily Cronin 2P 7:57
---
SCHWAN'S CUP - SILVER DIVISION
Ridder Arena & Schwan Super Rink 4
Championship
Buffalo/Maple Lake 3, Bloomington Jefferson 0
BUF: Julia McAlpin 1g, 1a, Allisen Carothers 1g
BUF: Raegan Wurm 1g
BUF: Kennedy Sohler 23-save shutout
BJ: Mara McClain 32 saves
GWG: Allisen Corothers 1P 4:42
Third Place
Rochester Lourdes 4, Delano/Rockford 3
RL: Emma Schmitz 2g, 1a, Clara Billings 1g, 1a
RL: Abby Wick 1g
RL: Corrin Hanson 10 saves
DR: Anna Keranen 2g, Emily Olson 1g, 2a
DR: Grace Glasrud 22 saves
GWG: Clara Billings 3P 16:03
Fifth Place
Duluth Marshall 5, Cambridge-Isanti/M/PC 4
DM: Emily Lemker 2g, Victoria Thorson 1g, 1a
DM: Meredith Boettcher 1g, 1a, Maren Friday 1g
DM: Charlesa Prior 22 saves
CIMPC: Chloe Nelson Hat Trick, 1a, Madelyn Skelton 1g, 3a
CIMPC: Jayonte Kotila 15 saves
GWG: Meredith Boettcher 3P 7:14
Seventh Place
Spring Lake Park 3, Duluth 1
SLP: Lindsey Albers 1g, 1a, Lizzie Northquest 1g
SLP: Allison Hjulberg 1g
SLP: Katie Thomas 22 saves
DUL: Cassie McClure 1g
DUL: Sophie Mitchell 30 saves
GWG: Allison Hjulberg 3P 1:13
---
SCHWAN'S CUP - BRONZE DIVISION
Ridder Arena & Schwan Super Rink 2
Championship
East Ridge 3, Minneapolis 1
ER: Abbi Scribner 1g, 1a, Anne Larsen 1g
ER: Lauren Beaubien 1g
ER: Emerald Kelley 20 saves
MPLS: Piper Sorock 1g
MPLS: Maeve Tallman 26 saves
GWG: Addi Scribner 2P 12:47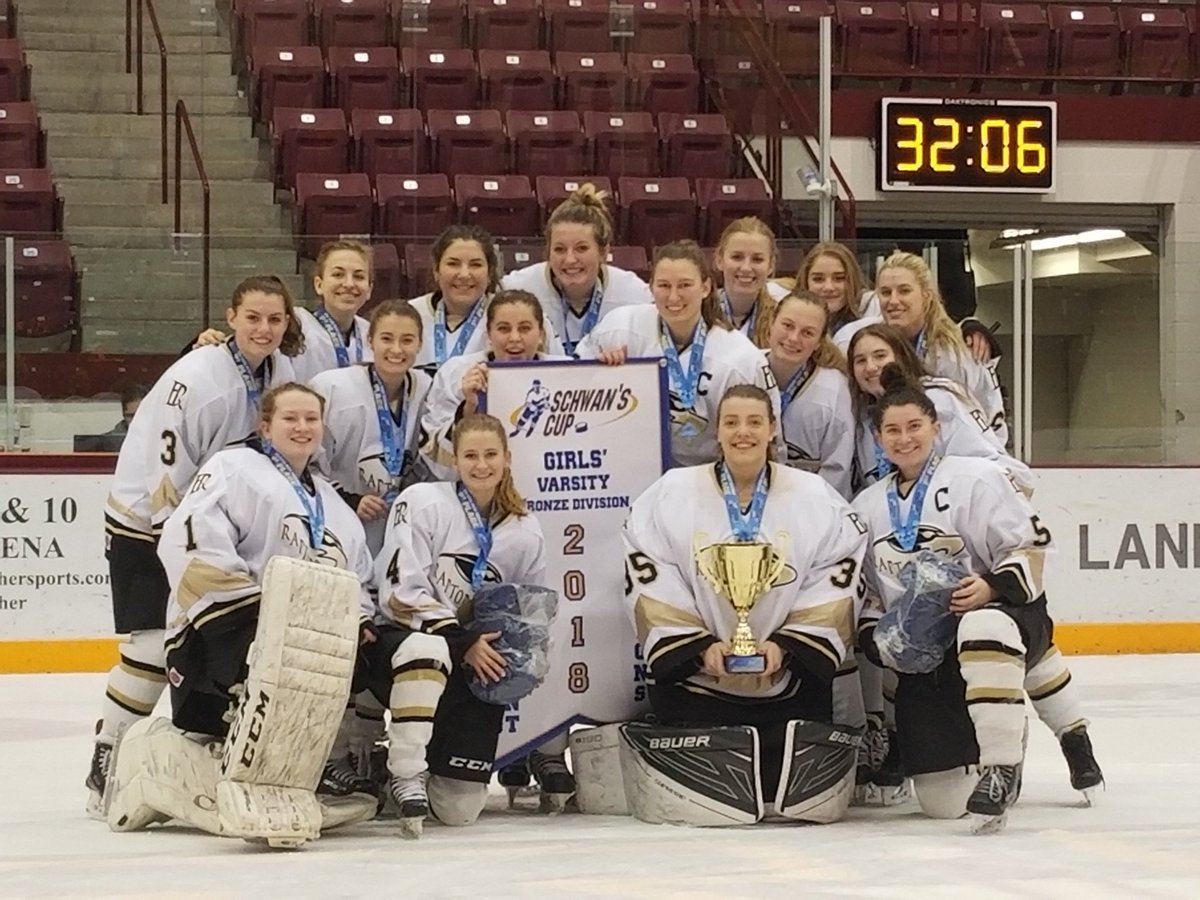 Credit: @ERHockeyGirls on Twitter
Third Place
Totino-Grace 5, Irondale 0
TG: Rachel Zastoupil 1g, 2a, Gabby McDonald 1g, 1a
TG: Callie Else 1g, 1a, Andrea Carlson 1g, Ashley Kelly 1g
TG: Jordyn Vowels 6-save shutout
IRO: Jennifer Rupp 27 saves
GWG: Andrea Carlson 1P 2:18
Fifth Place
St. Francis/North Branch 6, Red Wing 2
Final
Seventh Place
International Falls 3, Moose Lake Area 0
IF: Grace Bragg 1g, 1a, Faith Black 1g, Olivia Wright 1g
IF: Macey Marcotte 15-save shutout
MLA: Jo Wekseth 28 saves
GWG: Faith Black 2P 14:28
---
SCHWAN'S CUP - OPEN AMERICAN DIVISION
Ridder Arena & Schwan Super Rink 3
Championship
Chisago Lakes 8, Marshall 0
CL: Danielle Burgen Hat Trick, 4a, Jenny Lawry Hat Trick, 1a
CL: Maddi Klun 1g, 1a, Malia Mckinnon 1g
CL: Megan Lerfald 13-save shutout
MAR: Emma Klenken 40 saves
GWG: Jenna Lawry 1P 6:03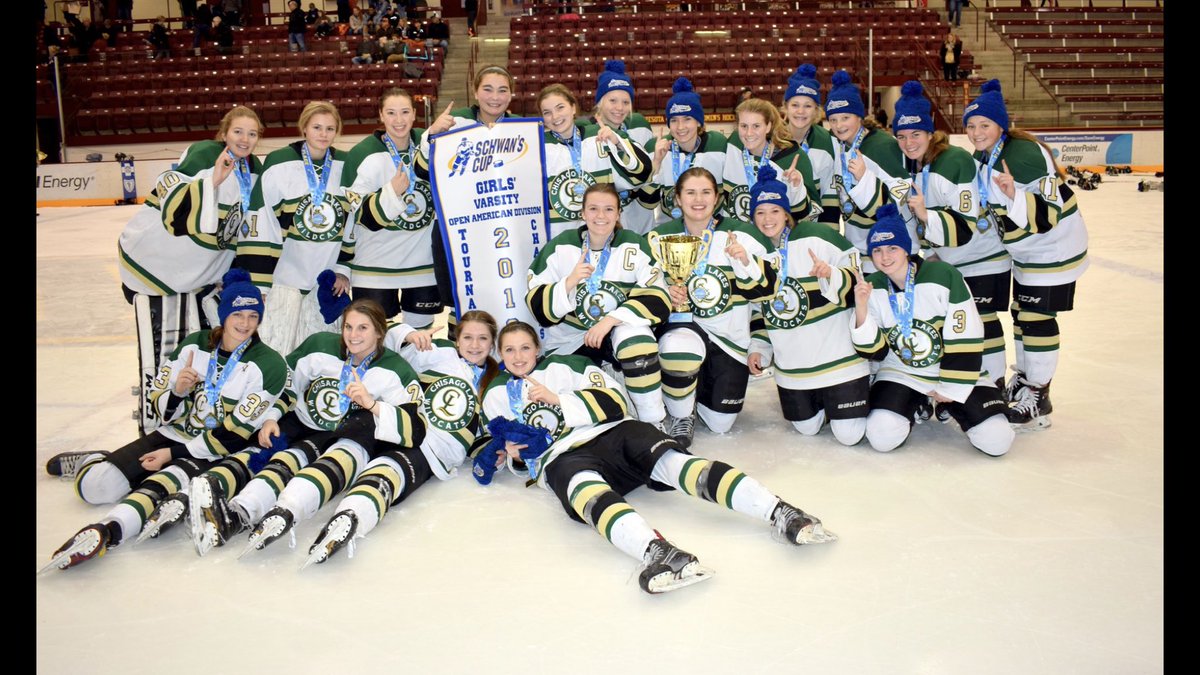 Credit: @CLGirlsHSHockey on Twitter
Third Place
Bay Area (WI) 4, Cap City (WI) 3
Final
Fifth Place
Univ School of Milwaukee (WI) 3, Owatonna 1
USM: Zoe Neudorfer 1g, Gaby Turer 1g, Jenna Klenz 1g
USM: Sammy Stommel 16 saves
OWA: Maylynn Prokopec 1g
OWA: Asia Buryska 13 saves
GWG: Gaby Turer 2P 0:13
Seventh Place
Northern Lakes 5, St. Paul/Henry Sibley2
NL: Savannah Abear 2g, Caitlyn Gutzman 2g
NL: Unknown 1g
NL: Kate Stephens 20 saves
SPHS: Alivia Weldon 1g, Solvei Berg-Messerole 1g
SPHS: Ellynor Haack 27 saves
GWG: Caitlyn Gutzman 3P 1:31
---
SCHWAN'S CUP - OPEN NATIONAL DIVISION
Ridder Arena & Schwan Super Rink 1
Championship
Western Wisconsin (WI) 5, Luverne 2
WW: Makenzie Weeks 2g, 1a, Jade Williams 1g, 1a
WW: Ellie Brice 1g, 1a, Allie Stock 1g
WW: Caitlyn Erickson 11 saves
LUV: Brynn Thier 1g, Kamryn Van Batavia 1g
LUV: Cheyenne Schutz 29 saves
GWG: Makenzie Weeks 2P 4:23
Third Place
Waseca 3, Fairmont 2
WAS: Isabella Sorenson 1g, 1a, Jacklynn Jevning 1g
WAS: Sierrah Bakken 1g
WAS: Erin Volkmer 18 saves
FAIR: Erica Serna 1g, Anna Nordquist 1g
FAIR: Rachel O'Connor 18 saves
GWG: Isabella Sorenson 3P 15:49
Fifth Place
Albert Lea 2, North Shore 1
AL: Josie Venem 1g, Ally Rasmussen 1g
AL: Maddie Schneider 30 saves
NS: Jessie Ketola 1g
NS: Maureen Dwyer 12 saves
GWG: Ally Rasmussen 3P 9:49
Seventh Place
Eveleth-Gilbert Area 4, Arrowhead (WI) 1
EGA: Anneka Lundgren Hat Trick, 1a, Kylie Baranzelli 1g, 2a
EGA: Rachel Woods 12 saves
ARR: Kirsten Leonardi 1g
ARR: Libby Wilson 20 saves
GWG: Anneka Lundgren 2P 6:59
---
WALSER INVITATIONAL
Braemar Arena
Championship
Brainerd/Little Falls 4, Breck School 2
BLF: Cheyenne Abear 2g, 2a, Abby Pohlkamp 2g, 1a
BLF: Olivia King 12 saves
BRE: Emily Zumwinkle 1g, Sadie Lindsay 1g
BRE: Ally Frantzick 25 saves
GWG: Abby Pohlkamp 3P 1:05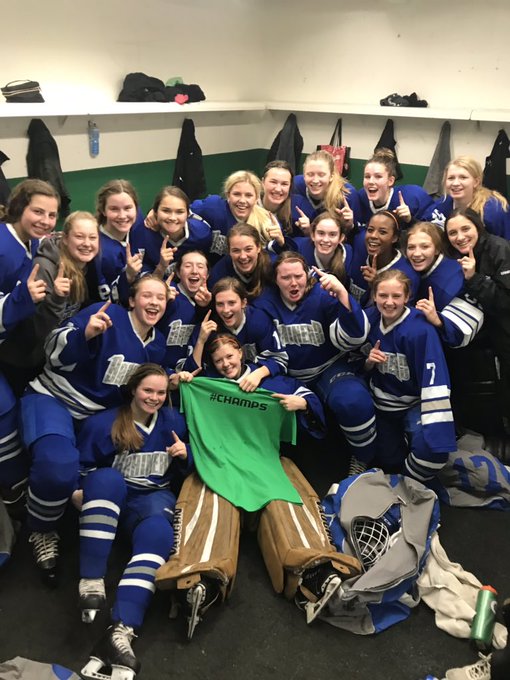 Credit: @WarriorGirlsHoc on Twitter
Third Place
Edina 3, Maple Grove 0
EDI: Hannah Chorske Hat Trick
EDI: Elli Strittmater 27-save shutout
MG: Lucy Morgan 32 saves
GWG: Hannah Chorske 2P 9:45
Fifth Place
North Wright County 2, Grand Rapids/Greenway 0
NWC: Sydney Lemke 1g, Mackenzie Dunn 1g
NWC: Anna LaRose 21-save shutout
GRG: Makenzie Cole 29 saves
Seventh Place
Alexandria 4, Stillwater 2
ALX: McKenna Ellingson 2g, Kaci Trosvig 1g, 1a
ALX: Marki Oberg 1g
ALX: Hailee Bailey 20 saves
STI: Morgan Wohlers 2g
STI: Grace Roeske 29 saves
GWG: McKenna Ellingson 2P 15:45